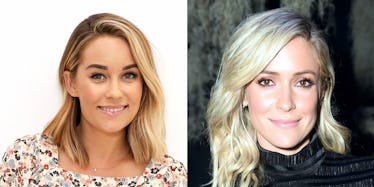 The OG Cast Of This MTV Reality Show Could Reportedly Reunite For The 2018 VMAs
Cindy Ord/Getty Images Entertainment/Getty Images/Nicholas Hunt/Getty Images Entertainment/Getty Images
This might be a shot in the dark, but do you guys remember the one of the best television shows from the year 2006? I do. Back then, when I wasn't begging for a Juicy tracksuit or crushing hard on Orlando Bloom, I was tuning in to watch my number one favorite TV show of all time,The Hills. The super popular reality drama aired on May 31, 2006, and it was a game-changer. If you were also absolutely heartbroken when the finale aired in 2010, you may be wondering if The Hills cast will reunite at the 2018 VMAs. Reports indicate that it might actually happen, and I am way too excited. Elite Daily reached out to MTV to confirm reports of the reunion but did not hear back at the time of publication.
I'm no fortune teller, but I can tell you that the MTV Video Music Awards are going to be incredibly lit this year. First, you have this ever-so-exciting report of a reunion from The Hills cast on the VMA red carpet on Monday, Aug. 20. On top of that, J. Lo will be accepting the Video Vanguard Award, and there's a super long lineup of talented performers, including: Shawn Mendes, Nicki Minaj, Post Malone, Travis Scott, Panic! At the Disco, and even Ariana Grande.
While that all sounds fine and dandy, those famous faces aren't the reasons I'll be tuning in. I'll say it: I am all-in on that rumored Hills reunion. According to US Magazine, the cast of The Hills might be planning to reunite at the VMAs red carpet. Yes, you read that correctly, and I'm literally panicking.
I should reiterate that these rumors are yet to be confirmed, but I'm nevertheless hyped AF. If this pans out like my dream The Hills reunion, Heidi Montag will probably show up with Lauren Conrad, Kristin Cavallari, Audrina Patridge, Brody Jenner, Lo Bosworth... and maybe even Spencer Pratt? That might be wishful thinking, though. Anyway, according to US Magazine, it's also rumored that MTV is going to make "a big announcement" during the VMAs ceremony (kind of vague, I know). Regardless, I'm totally banking on an announcement for a reunion season, of which there have been rumblings lately. Elite Daily reached out to MTV for comment on a possible reboot of The Hills but did not hear back at the time of publication. This time around, I won't even have to ask to stay up to watch it, and I won't have any homework to do before it comes on. Booyah.
A little over a month ago, there were rumors about an actual The Hills reunion. However, Kristin Cavallari went on The Wendy Williams Show, and told audiences "two people had to pull out because of another contract." When decoded, that means Spencer Pratt and Heidi Montag wanted no part of it. So. Freaking. Lame.
Cavallari also went on Watch What Happens Live With Andy Cohen, and she revealed that she still keeps in touch with Montag, talking about mom things and such. Cavallari said now isn't a great time for new parents Montag and Pratt to be on the show, what with a new baby and other commitments. However, I'm really hoping this big VMAs announcement will be about a reunion episode (or even season) in the future.
Right now, I'd like nothing more than to kick back in front of the TV with a few DVR'd episodes of The Hills, some popcorn, and maybe even the latest issue of Teen People. If the cast of The Hills reunites at this year's VMAs, I will be reliving the peak of my middle school years, and I honestly won't hate it.