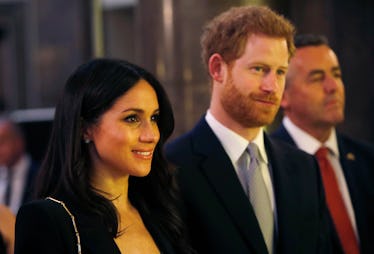 Twitter Is Losing It For The 'Harry & Meghan' Lifetime Movie & I'm So Here For It
WPA Pool/Getty Images Entertainment/Getty Images
Meghan Markle and Prince Harry have only been together for about a year and a half, but in that short time they've already become an iconic couple for the ages. Their May 19 wedding is just six days away, and if you can't contain your excitement about it chances are you watched the made-for-TV movie about their romance that premiered on May 13. These tweets about the Harry and Meghan Lifetime movie, are getting me even more hyped this royal wedding, and I didn't think that was possible.
Harry & Meghan: A Royal Romance stars Murray Fraser and Parisa Fitz‑Henley in the title roles of Prince Harry and Markle, and they're pretty spot-on. The last time we saw Lifetime movie about the last royal couple was in August 2011, when William & Kate: The Movie premiered on Lifetime as well. But that movie came out a couple of months after the actual wedding happened. So it seems unusual that this movie about Prince Harry and Markle was released before they said "I do" — but that just proves how hyped the world is for this historic event.
And Twitter was going absolutely nuts reacting to Harry & Meghan on the evening of May 13. Think of it as preparation for the upcoming royal nuptials.
People were loving it from the start.
Although some were also... skeptical... about the accuracy of the plot.
And many questioned how certain characters were portrayed in the story.
And laughed at the cheese factor.
But that still didn't diminish the royal wedding hype that this movie induced.
I'd call that a successful flick.
It's actually pretty surprising that Markle and Prince Harry already have a movie made about their romance, especially considering that it feels like they only just introduced themselves as a couple to the world a short while ago. Heck, we've only known they were together for a year and a half. But I'm definitely not complaining, because I'll take any royal wedding content that I can get.
It feels like only yesterday that Kensington Palace confirmed Markle and Harry's relationship back in November 2016. Since then it seems like the world has fallen in love with this couple. But if may recall, the beginning of their relationship wasn't as easy and joyous as it seems now. In that statement released on behalf of Prince Harry, he confirmed his relationship was Markle in order to denounce the harassment that she was suffering from the public. The statement read in part,
His girlfriend, Meghan Markle, has been subject to a wave of abuse and harassment. Some of this has been very public - the smear on the front page of a national newspaper; the racial undertones of comment pieces; and the outright sexism and racism of social media trolls and web article comments... Prince Harry is worried about Ms. Markle's safety and is deeply disappointed that he has not been able to protect her. It is not right that a few months into a relationship with him that Ms. Markle should be subjected to such a storm.
And the Harry & Meghan movie definitely addressed the harassment and how troubling it was, including the famous statement. In a trailer that was released two days before the movie's premiere, Fitz-Henley (as Markle) says, "I have spent years dealing with trolls and death threats all by myself, just a part of being in the public eye, I made peace with it," implying that Markle is ready, willing, and able to take on any hate that she'll get for dating Prince Harry.
Keep in mind that this movie is a loose interpretation of how Markle and Prince Harry relationship played out — emphasis on the loose. It's definitely an over-dramatic romp that can be pretty cringe-y at times — but hey, isn't that half the fun? Despite, or maybe even because of, the fictional nature of this movie, watching it is still getting me even more excited for Markle and Harry's big day. Grab the popcorn and the royal wedding invite, this is one show no one wants to miss.