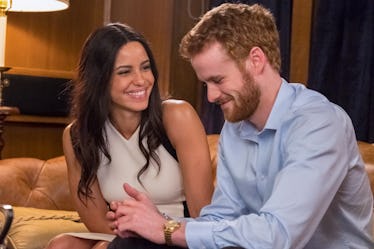 There's A Surprising Scene In The Trailer For The Meghan & Harry Lifetime Movie
Courtesy of Lifetime
The royal wedding is just one week away, but you know what's even closer? The Meghan Markle and Prince Harry Lifetime movie, Harry & Meghan: A Royal Romance, which premieres on Sunday, May 13. The TV movie promises to have plenty of royal trimmings, but don't expect it to be a watered-down version of The Crown: The Meghan Markle and Prince Harry Lifetime movie has a really surprising scene in it — and no, it's not that sex scene that the palace is worried about (but that scene will definitely be in the movie, so don't fret).
According to The Washington Post, the Lifetime movie will focus heavily on Harry's November 2016 statement that condemned the racist and sexist abuse Markle was receiving from the media and online trolls. In the statement, which was released by Kensington Palace at Prince Harry's urging, the palace stated that the "racial undertones" and the "outright sexism" that the media has displayed are totally inappropriate, and it called on British media outlets to be respectful of the couple's privacy. Towards the end of the statement, the palace expressed Harry's concern for Meghan's safety. "Prince Harry is worried about Ms. Markle's safety and is deeply disappointed he has not been able to protect her," it said.
This may seem like an innocent moment in the couple's history, but in Harry & Meghan: A Royal Romance, it's anything but. The Lifetime movie imagines this moment as a major point of contention between the two, because Meghan, as a passionate feminist, would likely have pushed away from the idea that she needs Harry to protect her. Says Meghan in the film, played by Parisa Fitz-Henley,
I have spent years dealing with trolls and death threats all by myself, just a part of being in the public eye. I made peace with it because I am … not some fragile wench up in an ivory tower. My tower ain't ivory, dude. And I'm not going to be put into one, you hear me?
Honestly, this totally makes sense. I get that dating a royal is totally different than dating a normal person, but that doesn't mean that you want some knight in shining armor to come save you when you don't need — or don't want — to be saved.
Not to give away any major spoilers (can they really be spoilers if we know that they get engaged at the end?), but apparently Harry's statement makes Meghan so upset that she breaks up with the prince. Shortly after, Meghan's mom (played by Melanie Nicholls-King) is able to talk some sense into her daughter when she points out that Harry likely had his own mother, Princess Diana, in mind when he wrote the statement:
That boy lost his mother to the paparazzi. They chased her into the tunnel that night. And after the crash, when she lay there dying, what did they do? They took pictures. Now those same people are attacking you. And you expect him not to try and protect you?
Who knows whether Meghan and Harry actually fought over the statement, but I admire Lifetime for trying to ground the movie in real-world problems. Sure, these two may be royals (or almost-royals), but they also have regular-people problems, and they're trying to navigate the waters of intersectionality and feminism just like us.
OK, now about that sex scene that has the palace in a tizzy. In the trailer, Harry (Murray Fraser) and Meghan are in bed together, about to kiss — you know, casual couple stuff. Director Menhaj Huda told Vanity Fair that the palace is "seriously worried about the sex scene," so naturally I'm thinking that it's quite a scene, right? Wrong. According to The Washington Post, the scene is pretty much totally PG. Expect some kissing, cuddling, a little bare shoulder, and lots of sheets covering everything else. I'm definitely not happy about this, but I imagine that the Queen will be delighted.
Harry & Meghan: A Royal Romance premieres at 8 p.m. ET Sunday, May 13 on Lifetime.