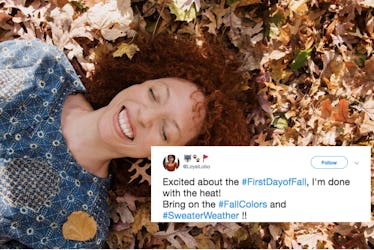 These Excited AF Tweets About The First Day Of Fall Will Make You Say, "It Me"
You guys, we finally made it. After living in the weird in-between time of drinking PSLs on 90-degree August days, the first day of fall has officially arrived. The season of changing leaves, sweater weather, and Thanksgiving commenced with the autumn equinox on Saturday, Sept. 22 — and people could not be more thrilled. These tweets about the first day of fall show just how pumped fans of the season are to finally welcome it with open arms.
It's no surprise that people love fall. If you live in a part of the country that gets very fall-like weather, you know that those perfectly crisp days with temps in the 50s and 60s are what the season is all about. It's an excuse to break out your favorite flannel, host a bonfire, and drink all the pumpkin-flavored java your can get your glove-covered hands on. Need more proof that people seriously love this masterpiece of a season? Look no further than the excited AF tweets from fall-lovers all over the internet.
From looking forward to jumping in fluffy leaf piles to planning a trip to a picturesque autumn scene complete with sunset-colored leaves and a peaceful stream, people are finding plenty of reasons to celebrate the arrival of fall on Sept. 22.
Basic, "schmasic." If loving fall is wrong, I don't wanna be right.
Add a puppy to a leaf pile, and you've got yourself a pretty good fall day.
Pumpkin Spice Cheerios confetti sounds like a delightful way to ring in the season.
All. The. Leaves.
I want to go to there.
It's time to pack away those tank tops and bring out every sweater you've got.
Then, of course, there is the No. 1 reason that makes this season so dang delightful (and delicious): pumpkin spice.
This is an easy question to answer. Yes, it's all pumpkin, all. Day. Long.
Here's a checklist of literally everything that makes fall the actual most wonderful time of the year.
While fall and football are pretty much the OTP (one true pairing) of the season, make sure you don't sleep on the September and October Major League Baseball (MLB) action. The MLB Postseason is coming, people.
If you want to learn a little bit more about the autumn equinox, you can really become a student of the season by learning about how the autumn equinox on Sept. 22, 2018 and the Harvest Moon on Sept 24 can affect your spiritually. It turns out that the Harvest Moon affects you more internally — like making "polarizing emotions" come to the surface — and the autumn equinox is about bringing external balance where the "day lasts just as long as the evening."
Really, there are endless reasons to make fall your favorite season. So, grab yourself a PSL, round up some firewood for the coziest bonfire ever, and start figuring out which one of your fuzzy sweaters will be your new go-to for fall 2018. Happy fall, y'all!