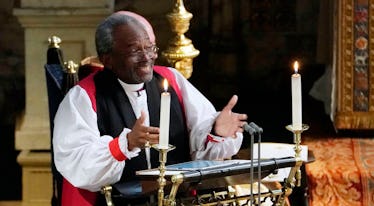 Twitter Is Obsessed With The Bishop From Harry & Meghan Markle's Wedding
Owen Humphreys - WPA Pool/Getty Images
It may have been Prince Harry, Duke of Sussex and Meghan Markle's big day, but someone else definitely stole the show at their royal wedding. After Prince Harry and Meghan said their "I dos" to one another, the couple took their seats and gave the spotlight over to a surprisingly animated, energetic pastor to deliver a sermon that became the most memorable moment of the entire event. Need proof? Look no further than Twitter to see how obsessed royal wedding fans were with the bishop that delivered the fiery, funny, and inspiring speech to Prince Harry and Meghan Markle right before they made their marriage official.
In a day that was filled and defined by stuffy decorum, Bishop Michael Curry's impassioned sermon came as a surprising but welcome bit of relatability amongst the highfalutin aura of St George's Chapel in Windsor Castle. Curry is the presiding bishop and primate of the Episcopal Church, and he used his time in front of the royal audience (and thousands of live viewers from around the world) to deliver a speech about the nature of love that also brought in some welcome humor and some powerful Martin Luther King Jr. quotes. If you missed the speech, you can see some clips of Bishop Michael Curry's sermon below:
As you can probably tell, the animated and inspiring speech became the highlight of the royal wedding, both for the royals and celebs in the room and for all of us watching from our homes. After Bishop Michael Curry took to the pulpit, Twitter exploded with tons of reactions to his attention-grabbing sermon, ranging from silly jokes to sincere thanks and praise. Check out all the tweets about Bishop Michael Curry's royal wedding sermon below:
To make the Bishop Michael Curry's involvement in the royal wedding even more meaningful, he actually shares something of a link with Meghan Markle. As we all know, Markle is now the most prominent woman of color represented within the British royal family, which is historically an almost exclusively white ruling family. Similarly, Michael Curry is the first black person to lead the Episcopal Church. In 2015, Bishop Curry became the Episcopal Church's first black leader after serving as the leader of the Diocese of North Carolina for about 15 years before that promotion. After hearing his passionately personal and invigorating royal wedding sermon, it is easy for everyone to see why Bishop Curry was selected to lead the U.S. Episcopal Church.
Another very notable part of Bishop Michael Curry's royal wedding speech was when he brought up slavery in America, citing old spirituals and wisdom passed down from that oppression. He wrote in his 2015 autobiography Songs My Grandma Sang that both sides of his family descended from slaves and sharecroppers from the American South.
But aside from the serious moments in his sermon, Bishop Michael Curry also included some surprising laughs for the otherwise reserved crowd. Although pretty much everyone else in attendance was staying somber for the very officious occasion, Curry decided to liven things up a bit by throwing out some unexpected jokes during his sermon. Clearly, the crowd was not expecting so much humor or animation, because fans caught some of the royals breaking their unsmiling exteriors to grin and giggle a bit during Curry's time on the stage. Most notably, Camilla, Duchess of Cornwall, and Kate, Duchess of Cambridge, shared a brief moment of hilarity that got caught by the cameras during the sermon.
The good news is that if you loved Bishop Michael Curry, you can continue to hear from him on his Twitter account: @PB_Curry.