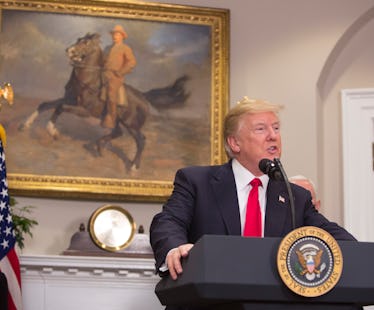 Everyone Is Freaking Out About Trump's First State Of The Union
Pool/Getty Images News/Getty Images
President Donald Trump delivered his first ever State of the Union address to a joint session of Congress on Tuesday, Jan. 29. The highly anticipated event was under close scrutiny as Trump took to the podium and had the opportunity to have a deliver one of his biggest presidential moments, which, to be honest, are often hard to come by under this administration. Well, the event is now underway, and if there's one place to go to if you're looking for reactions to anything Trump does, it's Twitter. And lucky us, these are the tweets about the 2018 State of the Union address.
Reports leading up to the address expected the president to celebrate the nation's economic success, and emphasize the necessity of bipartisanship in a heavily divided Congress, following a year of failed legislature. Just hours before the address, Trump spoke with network news correspondents at a lunch that took place in the White House, where he discussed that we are to expect him to emphasize national unity during his speech on Tuesday night. He said,
I would love to be able to bring back our country in a great form of unity, without a major event — very tough to do. I would like to do it without a major event, because that major event is usually a bad thing. Unity is really what I'm striving for, to bring the country together.
Here's what Twitter had to say about President Trump bringing the country together:
People Were Quick To Define What "President" Means
And Some Even Tweeted Directly About The FLOTUS
Hey, U OK?
This Twitter User Recalled The Past Year's Most Basic Horrors
SAME, Nancy. Same.
Um... Makes Sense?
Twitter Focused On The Crowd In Attendance
Yikes.
Art Imitating... Life
Fact-Checkers Were Out In Full Force
We Need More Batteries ASAP!
OK, TBH, This Is Accurate (And Hilarious)
Considering that the official theme for the State of the Union is "building a safe, strong, and proud America," this tone and emphasis on bipartisan collaboration seemed fitting. Trump was also expected to discuss the nation's strong economy and his "America first" initiative that he's been pushing since his candidacy. What we were unsure of at the start was how Trump would address immigration reform (if he even did), which was in large part the reason the government shut down for three days just weeks ago.
It Wasn't His Biggest Speech This Week, Though
Trump's most recent speaking engagement took place at the World Economic Forum (WEF) in Davos, Switzerland, on Jan. 26, just three days before the address. Trump gave a formal 15-minute keynote address, where he flaunted the United States' economic success under his administration. Trump said in the speech,
The world is witnessing the resurgence of a strong and prosperous America. I'm here to deliver a simple message. There has never been a better time to hire, to build, to invest and to grow in the United States. America is open for business, and we are competitive once again.
The speech was well put together and Trump delivered it confidently and with ease, making it one of the few truly presidential moments that we've seen from this president in the year that he's been in office. However, the eloquent speech was followed by a less formal Q&A session with WEF founder Klaus Schwab. And it was during the session that we saw the Trump that we've come to know and criticize. Trump could not resist touching on his now infamous "fake news" schtick and threw the fourth estate under the bus in the most Trump-ian way possible. He said, "It wasn't until I became a politician that I realized how nasty, how mean, how vicious and how fake the press can be." The comment was met with a multitude of audible boos coming from the audience, which can be clearly heard in a video from the event.
In that single 30-minute speaking engagement, we saw both sides that Trump can present. His dominant, off-the-cuff, spontaneous and very much so un-presidential side, and his less-often displayed presidential side. This WEF speech being the last time we've heard from Trump, using his tone as an indicator for what his address tonight might look like was kind of a toss-up. But on the other hand, being that this is a highly influential and important event we naturally expected Trump to exercise his presidential muscles and deliver a solid, decent speech.
But did he? That's in the eye of the beholder, I guess.