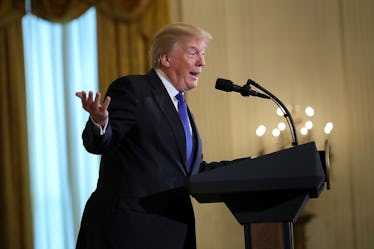 Trump Talked About Fake News In Davos & People Did Not Like It
Chip Somodevilla/Getty Images News/Getty Images
President Donald Trump didn't exactly get a standing ovation this year at the World Economic Forum (WEF). On Friday, Jan. 26, the president's speech drew attention worldwide as the video of Trump talking about fake news in Davos, Switzerland, where the event was being held, went viral. According to multiple reports of the event, his comments were met with booing from the audience.
Trump's address to the world leaders and economic elite on Friday focused on putting "America first," in keeping with his campaign talking point, while simultaneously courting pro-U.S. business. "There has never been a better time to hire, to invest and to grow in the United States," he said. "America is open for business, and we are competitive once again."
During a Q&A session with WEF founder Klaus Schwab, Trump discussed his history with the media as a businessman. He said, "It wasn't until I became a politician that I realized how nasty, how mean, how vicious and how fake the press can be." Upon uttering the last sentence, boos emanated from the crowd. The reaction can be heard in the video and was confirmed by numerous journalists present at the forum.
Trump's "fake news" comment comes on the heels of a report by The New York Times on Jan. 25 that Trump allegedly tried to fire Robert Mueller, the FBI special counsel charged with leading the investigation into collusion and Russian meddling in the U.S. election. Trump denied the allegation, calling it fake news.
Trump's comments were met with some negativity.
"WOW — Davos crowd laughs at Trump, then BOOS after he blasts the 'fake news,'" wrote Aaron Rupar on Twitter, quoting the president's speech and subsequent audience reaction.
"I can't think of another example of the Davos crowd booing a speaker. This is a venue where even despots like Kagame always get polite applause," tweeted Building Markets founder Scott Gilmore, referring to the Rwandan president Paul Kagame. Kagame chairs the African Union, which in a statement on Jan. 12 denounced Trump's alleged "sh*thole countries" remark, per Reuters.
Former U.S. ambassador and White House ethics czar Norm Eisen tweeted his own thoughts on the matter. He wrote, "as an ex-ambassador: this is HORRIBLE. single worst diplo speech i have seen. the thing that makes America different is that we put ethics first. how does proclaiming our selfishness help us — even if we are selfish sometimes, why advertise it? both immoral and stupid."
Reactions came both on and offline.
If the booing wasn't enough, other reports indicate that some at the forum weren't fans of what Trump said about the media. Washington Post economics correspondent Heather Long tweeted about what attendees of the Davos event she interviewed had to say on Trump. Among their reactions reported: "Good speech for Trump, but it's still Trump" and "he should NOT have bashed the media."
But Trump did have at least one big-name fan of his speech. Nigel Farage, a prominent British Independent party politician, appeared to be all for it.
Trump's approval rating abroad isn't too positive, either.
The global approval rating of U.S. leadership this year has sunk to 30 percent, taking a nosedive from 48 percent under the last year of Obama's presidency. According to Gallup, which released the report earlier this year, 30 percent is an all-time low for the country's ratings abroad. It's impossible to know whether Trump's appearance at the WEF helped or hurt this standing.
But Gallup gives a caution. "It may be too early in Trump's presidency to tell if his 'America First' foreign policy is a success or failure," the report reads. "But this report reveals U.S. alliances and partnerships are at risk."
And it appears people are taking to the streets to voice their feelings about the WEF and Trump. Twitter videos posted on Jan. 26 showed protests in Davos earlier this week.