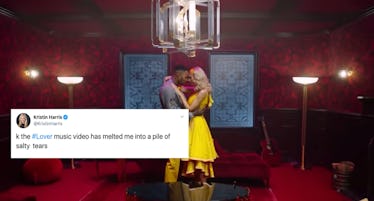 Taylor Swift Just Dropped The Most Romantic Music Video For Her Song "Lover"
Taylor Swift/Vevo
If you're team Taylor, then you must be team Lover, her latest and greatest album to shake the music stratosphere. The full album drops on Friday, Aug. 23, but the "ME!" star has been treating fans to sneak peeks and treats ever since that butterfly mural showed up in Nashville. Naturally, fans are obsessed with all things Lover, including the album's eponymous song. These tweets about Taylor Swift's "Lover" music video, which was released on Aug. 22, are a great example of how much support Swifties have for their idol's newest work. This girl can't go wrong when she brings romance into the fold, ya know?
Like so many of Swift's songs, "Lover" is an ode to someone she, well, loves. With lyrics like "Ladies and gentlemen, will you please stand? / With every guitar string scar on my hand / I take this magnetic force of a man to be my lover," how could anyone expect that this music video was going to be anything but perfection? Its big sister music videos for the songs "You Need To Calm Down" and "ME!" are hard to compete with, sure, but "Lover" certainly stands on its own as the heartbeat bass beneath the rest of the album's thriving melodies.
Fans couldn't wait to devour the visuals that were going to be paired with the swoon-worthy words. The music video definitely was worthy of all they hype. From the bright colors and dreamy lights, to Christian Owens playing Swift's lover, to the adorable vision of Swift's future family on Christmas morning, this video is filled with plenty for fans to fawn over.
If Twitter is any indication (and it usually is) Swifties everywhere are already in love with Swift's latest ode to love. Twitter is truly blowing up with fans letting everyone know just how many tears they're crying over the "Lover" video.
The "Lover" video features Swift and Owens as a couple going through all the ups and downs of a relationship. Even when it seems like they're going through a rough patch and are in their separate spaces of their home, they're still connected to each other. They tough it out together and still end up with their happy ending. Relationships aren't exactly a new subject matter for Swift, but fans are especially excited about the couple in the "Lover" video.
The "Lover" video also stands out for its vision of happy family life. It begins and ends with scenes on Christmas morning, and fans are really into the idea of Taylor and her future family celebrating the holidays together someday.
In her YouTube live stream before its release, Swift called the "Lover" video "aesthetically pleasing from a color standpoint." Swifties are definitely noticing and appreciating the fact that the video is just as beautiful visually as it is musically.
It's clear Swift has delivered yet another video that fans are all over. Now Swifties just have to brace themselves all over again for the Lover album release next.