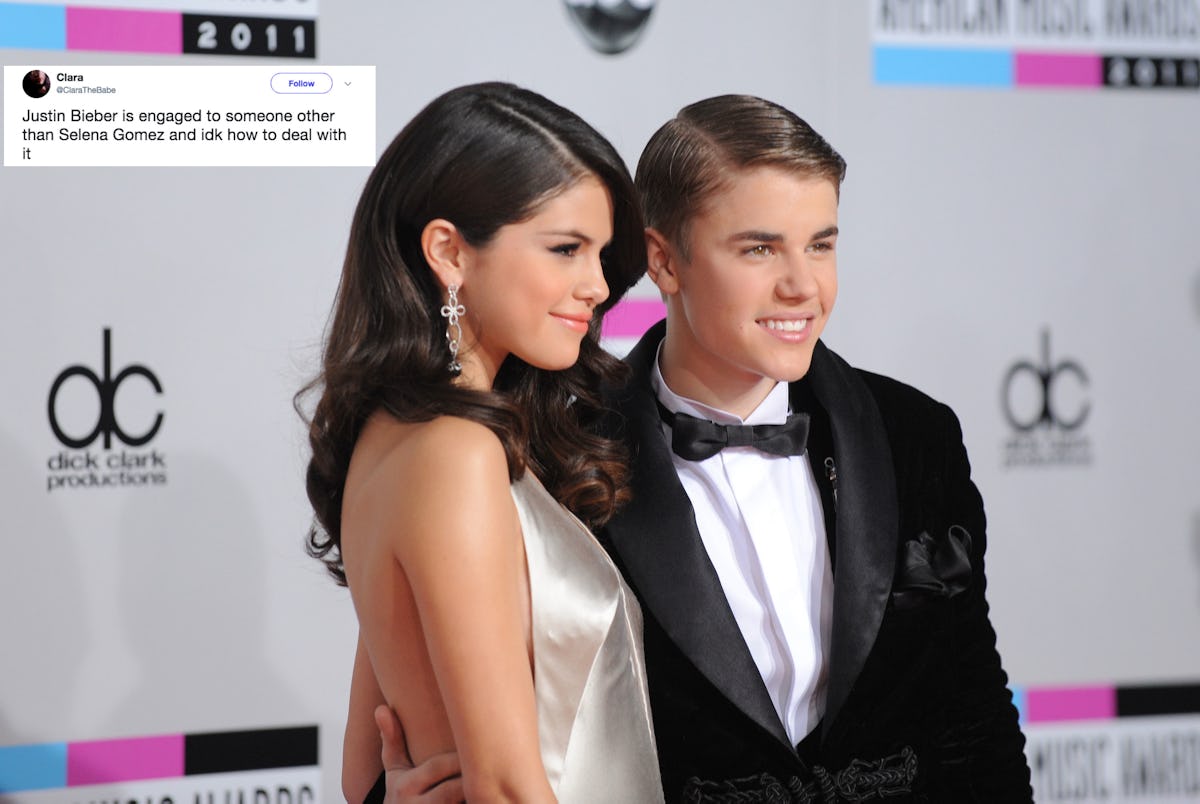 Everyone Has The Same Question About Jelena After Justin Bieber's Engagement Reports
Jason Merritt/Getty Images Entertainment/Getty Images
Just when I thought 2018 proved itself to be the year of breakups, it looks like it might actually be the year of spontaneous engagements. In case you haven't heard, Justin Bieber is reportedly engaged to Hailey Baldwin, and these tweets about Justin Bieber and Selena Gomez after Bieber's reported engagement are proof that none of us ever saw this coming. I don't know about y'all, but I'm not sure if I'll be able to recover from this bombshell.
Elite Daily reached out to Justin Bieber and Hailey Baldwin's representatives for comments on the reported engagement at the time, but didn't hear back. Even though none of us may have the total story on this whirlwind romance, TMZ reported that Bieber reportedly asked Baldwin for her hand on July 7 while vacationing in the Bahamas, and the model reportedly accepted his proposal. Of course I'm happy as can be for the new couple, but I would be lying if I said I wasn't slightly bummed to see that Justin Bieber and Selena Gomez won't have the fairytale ending that I always pictured for the two.
Apparently I'm not the only one sad to see the official end of #Jelena. After news of Bieber and Baldwin's reported engagement broke, Twitter decided to take a trip down memory lane in order to understand how Gomez and Bieber weren't the total endgame we had all expected them to be.
Same Twitter, same. Even though engagement rumors are just a part of celebrity lifestyle, it looks like these reports might actually be the real deal. How do we know that, might you ask? Well, after news broke of the reported engagement, both of Bieber's parents took to social media to share posts that seem to hint that the rumors might be true. On June 8, Bieber's father, Jeremy Bieber, took to Instagram to share a photo of Bieber alongside a picturesque sunset. However, it was the caption that has everyone raising their eyebrows. In the post he wrote, "@justinbieber Proud is an understatement! Excited for the next chapter!" Hm, curiouser and curiouser.
But wait, there's more. On July 7, Justin Bieber's mom, Pattie Mallette, shared a cyrptic tweet that simply said "Love Love Love Love Love Love Love." Am I the only one hearing wedding bells already?
Perhaps the reason why all of Twitter is so #shook by the news is because Justin Bieber and Selena Gomez are one of the most Romeo & Julietesque couples in Hollywood history (thankfully, without all the poisonings and stabbings). The ex-couple became official way back in 2011, and since they've been infamously off and on over the years. In January 2017, while Gomez and Bieber weren't seeing each other, she and sultry songwriter The Weeknd started dating. Although these two were definitely super cute together, in October 2017 reports surfaced that Gomez and the Weeknd had broken up after ten months of dating. It's not uncommon for couples to break up, but what makes this situation so tricky is that just days after the split, Justin Bieber and Selena Gomez reunited and were photographed together for the first time since 2015. Even though reports believed that the two had coupled up once again, the two officially called it quits in March 2018, much to many fans' dismay.
Gomez and Bieber may not be the ones walking down the aisle together, but I have no doubt that both of them will find their happy endings.
After all, the course of true love never did run smoothly. Even if Twitter wishes it did.