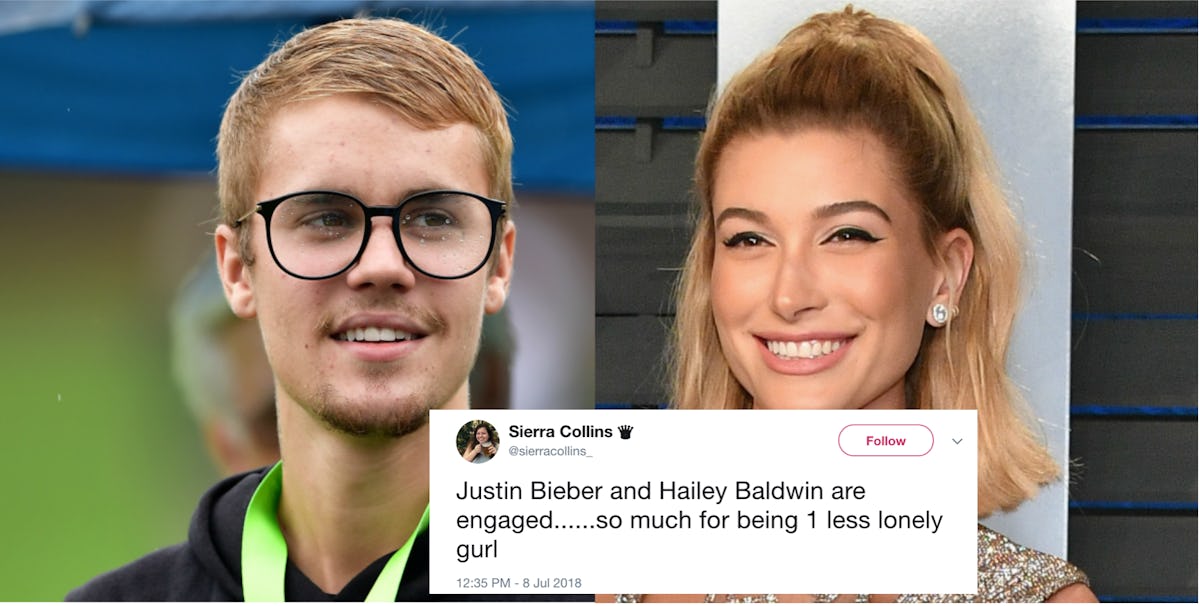 Twitter Seriously Lost It Over Justin Bieber & Hailey Baldwin's Reported Engagement
Stuart Franklin/Getty Images Sport/Getty Images/Dia Dipasupil/Getty Images Entertainment/Getty Images
Justin Bieber and Hailey Baldwin have taken their rumored on-again relationship status to the next level. The couple reportedly got engaged on Saturday, July 7, and Twitter cannot handle the news. These tweets about Justin Bieber and Hailey Baldwin's rumored engagement prove that everyone freaked out over the news.
TMZ reported that Bieber proposed to Baldwin on Saturday night while the couple was on vacation in the Bahamas, according to eyewitnesses who claim to have seen the real-life movie moment. The eyewitnesses told the media outlet that Bieber's security team asked everyone at the resort restaurant to put their phones away right before he reportedly proposed to Baldwin in front of everybody there. There aren't any reports of Baldwin's reaction, but the engagement is reportedly on, so I'm assuming that she at least said, "Yes."
Since fans are receiving this surprising reported engagement news at a time when people were still trying to figure out if Bieber and Baldwin were, in fact, on-again, it's safe to say plenty of people were shocked. There were plenty of congratulatory wishes for the couple, but there were also many Beliebers and Jelena fans who were, in a word: shook.
The news seriously took fans by storm.
"Who knew..."
Justin Bieber has chosen his "Baby," and, "The chase is over."
The news of the reported engagement has caused some real AF reactions.
At least Bieber has plenty of fitting song titles for his fans to use while they let the news sink in.
And then there's the question of what Jelena fans are supposed to do now that all hopes of a reunion are seemingly dashed.
While hearts were breaking for the official end of Jelena, other fans were simply thrilled for the reported engagement between the singer and model.
OK, the reactions are definitely mixed, but there does seem to be a good contingent of fans who are completely happy for Bieber and Baldwin's reported engagement.
Again, this news comes only a little less than a month after it was first reported that the couple — who dated briefly in 2014 — was back together again. They were spotted out and about together in Miami in June, and fans were convinced that they were in a relationship.
Now that the couple is reportedly engaged, it seems as though they are completely on-again. Bieber and Baldwin haven't taken to their social media accounts to confirm the big news yet, but Bieber's dad's Instagram post on Sunday, July 8 seemed to do that for them. Jeremy Bieber posted a photo of his son to his Instagram account on Sunday morning, with the caption, "@justinbieber Proud is an understatement! Excited for the next chapter!"
Of course Jeremy didn't outright say that Bieber asked Baldwin to marry him, but the celebratory nature of the post seems to indicate the reports of an engagement are likely accurate.
Bieber proved himself to be a total heartthrob as soon as busted onto the music scene a decade ago, so the Twitter reactions filled with broken Belieber hearts are definitely to be expected. And when it comes to Bieber and Gomez, the exes were always a fan-favorite couple. I'm sure the news of the reported engagement between Baldwin and Bieber stings a little more because of the fact that Bieber and Gomez had most recently broken up in March 2018.
The heart wants what it wants though, and seems like Bieber's heart wanted to reportedly propose to Baldwin on their Bahamian vacation.