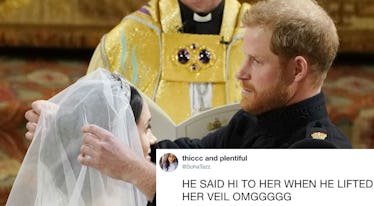 Twitter Is Losing It Over Prince Harry Lifting Meghan Markle's Veil For This Cute Reason
Owen Humphreys - WPA Pool/Getty Images
OK, I think we all have our favorite moments from the royal wedding by now, but did you catch this super subtle one? The highly anticipated wedding ceremony between Prince Harry, Duke of Sussex and Meghan Markle was absolutely packed with so many romantic, adorable, beautiful moments, that it is not easy to catch them all. Thankfully, some eagle-eyed Twitter users managed to squeeze every last drop of heart-melting cuteness out of the royal wedding, even from super-small details that most viewers may have missed. These tweets about Prince Harry lifting Meghan Markle's veil will make you totally reconsider how romantic that moment really was during the royal wedding.
After Meghan made her entrance at St George's Chapel in Windsor Castle and walked down the aisle, the first order of business was for Prince Harry to lift her long, gossamer veil. It may sound like a very small and practical moment, but for the thousands of viewers whose eyes were glued to everything that Prince Harry and Meghan were doing, the small act actually became one of the cutest and most romantic parts of the entire royal wedding. Need a refresher? Check out the clip of Prince Harry lifting Meghan's veil below:
Did you catch that at the end? After he carefully lifted (and placed!) Meghan's veil, Prince Harry appeared to mouth "Hi" to his bride-to-be. Have you ever seen anything more adorable in your life!? Obviously, everyone who noticed the tiny greeting while watching the royal wedding had to take to Twitter to freak out about it:
But Prince Harry's adorable little "Hi" was not the only part of the veil lifting that viewers found incredibly romantic. Other Twitter users pointed out that the careful adjustment Prince Harry did of Meghan's veil after lifting it showed how overwhelmingly he must care for her. But most viewers were blown away by the looks of pure love that Meghan and Prince Harry exchanged right after Prince Harry removed the veil from in between them. Awwww, it's all too much to handle! Check out some of the other reactions to the prince lifting the veil below:
That small "Hi" was not the only romantic thing that fans caught Prince Harry whispering to Meghan during the royal wedding. Before he removed Meghan's veil, viewers caught Prince Harry mouthing the words "You look amazing; I'm so lucky," with a wide smile planted on his face right when his bride completed her procession to the altar. Relive the adorable moment in the clip below:
Too cute, right? Even Kim Kardashian was swooning at that moment!
But back to Meghan's incredibly gorgeous veil: it was not just there for her Prince Charming to remove! Meghan decided to add some meaning to her stunning 16-feet-long wedding veil, and had it embroidered with flowers native to each of the 53 countries within the Commonwealth as a way to signify unity. Topping it off, Meghan wore a diamond tiara that first belonged to Queen Mary in 1932, which Queen Elizabeth lent to Meghan for the wedding.
There is no denying that Meghan looked incredible wearing the long, embroidered wedding veil, and even more radiant when Prince Harry pushed the front back to reveal her luminous, smiling face. Since it was the very first moment that the couple fully got to see one another on their wedding day, the palpable love and joy that everyone watching could see in them at that moment was even more special. And Prince Harry's sweet little greeting to his future wife was the cherry on top.