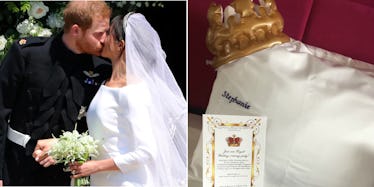 I Had The Full Royal Experience For Meghan & Harry's Wedding & Now I Think I'm A Princess
WPA Pool/Getty Images Entertainment/Getty Images / Stephanie Ironson
Before today, the closest I've ever come to feeling like a royal was when my Uber driver got out his Prius to open the door for me on a rainy day. I emphasize "rainy" to stress how chivalrous and luxurious it was; someone willingly stepped onto the pouring streets of New York City to make my 10-block riding experience as positive as possible. "Wow," I remember thinking to myself, "This is how Meghan Markle must feel. This is my chariot." However, after witnessing the Gansevoort Meatpacking's royal wedding watch party and getting the full royal treatment on the day of the wedding, I can confidently say that my rainy Uber ride was nothing but a stroke of luck for this commoner.
As an Elite Daily entertainment editor, my morning of the royal wedding was presumably the same as the Dutchess of Sussex's: I woke up at 4 a.m. in a large hotel bed with customized pillowcases, frazzled, and kind of sweaty. Yes, my nerves pertained more to making sure I used the right filter in my opener for Elite Daily's Snapchat story (the dog filter is too basic but using no filter is just careless) and not what it would feel like to carry the eyes of the world while trying not to trip over my wedding dress, but please let me have this analogy.
For context, Meghan and Harry's wedding isn't just a regular wedding, it's a cool wedding. So cool that people around the world woke up before the crack of dawn to sit in front of the TV and watch royals and celebrities head to St George's Chapel.
For an editor on the east coast of the United States, that means waking up at 4 a.m. to cover the first arrivals. For other worldwide events that start at ungodly hours, I typically tip-toe around my apartment, trying to quietly and comfortably situate myself with a cup of Keurig coffee and a banana. For the royal wedding, however, my breakfast was slightly better:
Delivered to my room at 6:30 a.m., I was treated to a traditional English breakfast, which included eggs, bacon, sausage, ham, beans, fried bread, potatoes, broiled tomato, toast and jam. It was, to say the least, better than a banana.
As the procession went on and the ceremony officially started, I made my way downstairs to the hotel's restaurant for a swanky viewing party. The party consisted of people who didn't have laptops with them or look like they were running on 3.5 hours of sleep; these were every-day New Yorkers who willingly got up on this gloomy Saturday morning to watch the royal nuptials with the enthusiasm of Princess Charlotte.
While I'm typically not one to throw a drink back at 7 a.m., the Gansevoort Meatpacking offered me a "Markletini," and who am I to say no to that?
You can make your own Markletini with this easy recipe:
1 oz Belvedere Ginger Zest Vodka
1/4 oz Cedilla Acai Liqueur
1/4 oz Parfait Amour Liqueur
.5 oz Fresh Lime Juice
.5 oz Simple Syrup
Splash Chandon Rose
Or, if you're someone who doesn't pick which drink to have based on its cute name alone (sue me), the hotel also offered a drink in Harry's honor.
Here's how to make your own "Prince Cup":
1 1/2 cups Pimm's No. 1
1 navel orange, cut crosswise into thin slices
1 lemon, cut crosswise into thin slices
3/4 cup firmly packed mint leaves and tender stems
1 1/2 cups 10 Barrel Cucumber Beer
1 cucumber, cut lengthwise into 8 wedges
About 3 cups ice
1 apple, quartered, cored, and cut into thin slices
And now, at 10 a.m., after a full day's worth of work, I can say with confidence that I have no interest in returning to my regular plebeian editor lifestyle. But if Meghan Markle can go from holding a suitcase on The Price Is Right to a duchess, a journalist with a newfound enthusiasm for breakfast beans could definitely be next.