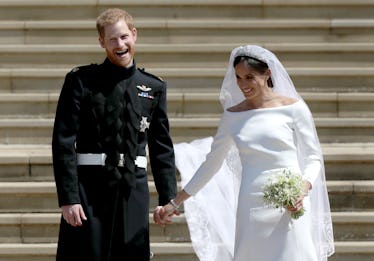 This Adorable Detail In The Official Royal Wedding Portraits Is Melting Everyone's Hearts
WPA Pool/Getty Images Entertainment/Getty Images
The royal family just released three of Prince Harry and Meghan Markle's official wedding portraits, and they're as perfect as you'd imagine. I personally expected Princess Charlotte to steal the show with her pose, but her big brother is actually the star of one of these photos and my heart is melting. The tweets about Prince George in the royal wedding portrait show how popular the future king of England already is. He's just so stinkin' cute!
In a series of three tweets, Kensington Palace debuted Harry and Meghan's official wedding portraits. The pictures include one of the whole family, one of just Harry and Meghan with their bridesmaids and page boys, and one of just Harry and Meghan that'll make you squeal with joy. Well, all of them will make you squeal with joy to be quite freaking honest, but one of the most pure parts of the photos is Prince George's smiling face. He's known for having a sassy, "I'm over this" facial expression most of the time, so people on Twitter are loving seeing the little prince grinning from cheek to cheek.
Just look at George's precious little smile!
Fans of the royal family can't get over how joyful George looks.
The first tweet debuted the portrait of the entire royal family.
It said, "The Duke and Duchess of Sussex have released three official photographs from their Wedding day. These photographs were taken by photographer Alexi Lubomirski at Windsor Castle, following the carriage procession."
The second tweet featured the photo of Harry, Meghan, and their bridesmaids and page boys, and Twitter users can't get enough of it thanks to Prince George, page boy extraordinaire. It said, "The Duke and Duchess of Sussex with the Bridesmaids and Page Boys, taken by photographer Alexi Lubomirski in the Green Drawing Room of Windsor Castle."
The third and final tweet featured a gorgeous black-and-white photo of Harry and Meghan.
The tweet said, "The Duke and Duchess would like to thank everyone who took part in the celebrations of their Wedding. They feel so lucky to have been able to share their day with all those gathered in Windsor and those who watched on television across the UK, Commonwealth, and around the world."
Alexi Lubomirski took the wedding portraits of Harry and Meghan and the royal family. He also took the couple's engagement portraits that were released in December of 2017. At the time, he thanked the couple for giving him the gig (he reportedly snagged the role after Harry and Meghan saw his Instagram, to all of you who think social media is pointless). He said,
A huge thank you to His Royal Highness Prince Harry and Ms Markle, for allowing me to take their official engagement portraits. Not only was it an incredible honour, but also an immense privilege to be invited to share and be a witness to this young couple's love for each other. I cannot help but smile when I look at the photos that we took. @kensingtonroyal
It was announced on April 13 that Lubomirski had been asked to take the wedding portraits. But in an interview with E! News just days before this announcement, he said he had been invited to the wedding but had not yet been asked to take the portraits.
On how he landed the gig of taking Harry and Meghan's engagement portraits, he said in the interview,
I think ... one of Meghan's friends saw me on Instagram, that I was in England during the announcement of the engagement, and I was told later that this person said to her, 'You should meet Alexi. He's great. You'd love him.' And that was it.
He also said in the interview, "We've been asked to attend the wedding, which is great. And as for who shoots it, I have no idea." LOL, just kidding! It was going to be him all along! Well done, Alexi. You have taken literally the most majestic photos of the year. Thank you for bringing these photos, and Prince George's beaming little smile, into our lives.