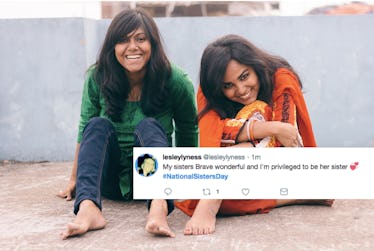 These Tweets About National Sisters Day Will Make You Want To Hug Your Sis ASAP
If you weren't already aware, Sunday, Aug. 5 is National Sisters Day. The family-oriented holiday is about celebrating your siblings, especially your sisters. Speaking from experience, I know that sisters can sometimes get on your nerves, but your sister can also be your best friend. It's easy to take your ride-or-die siblings for granted, so Twitter is helping you out by sharing all the hilarious and heartwarming moments that come from having a sisters. These tweets about National Sisters Day will make you want to hug your sis ASAP.
If the apparent Kardashian sister feud is any indication of how real AF sibling relationships hit highs and lows, then it's safe to say that sister drama can affect anyone. Thankfully, that's not what National Sisters Day is all about. The Aug. 5 holiday is about raising up the ladies in your life, and there are plenty of reasons to give your sister a shout-out in honor of the celebratory day.
If you need a little inspiration, Twitter is coming in hot with the sweet messages for the sisters in your life. Hey, you could even share similar sentiments with whoever is close to you in your life (like your besties), because it's always a good time to remind the ones you love how much you care about them.
You can praise the strong sis in your life with this simply positive message.
Hugs from your sister are pretty much the best.
The best thing about having a sister is that you can usually overcome even the worst of disagreements.
Check out these sisters literally putting the "ride" in ride-or-die.
Shout out to all the big sisters out there who pass down that hard-earned wisdom!
Sisters don't have to share the same taste in music to get along.
Although, a sister dance party to your shared fav jam is always a good time.
Everyone's sisters are different, and today is when you appreciate your sis for what she does best — even if that is sneaking a taste of dinner before it's done.
Lifting up your sis with nothing but positive vibes is what National Sisters Day is all about.
It's so nice to know that your sister will always be there for you, especially during the toughest of times.
When you have a sister, it's basically like you have two closets, right?
Really, there are endless ways to wish whoever you want to a happy National Sisters Day, but there is one crew of sisters that is on everyone's mind. In a perfect coincidence (or more likely, expert planning by momager Kris Jenner), the Season 15 premiere of Keeping Up with the Kardashians airs the same day as National Sisters Day.
With all of the apparent drama that has been going on between Kim Kardashian and Kourt, plenty of people will be spending this holiday by tuning into E! on Sunday night, Aug. 5. If your sister is a Kardashian stan, you could even make it a sister date night to see how the drama unfolds. Happy National Sister Day!