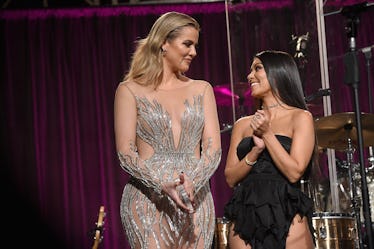 Khloé Kardashian Might've Shaded Kourtney With This IG Pic, So The Drama Is On
Jamie McCarthy/Getty Images Entertainment/Getty Images
You hear that? That's the sound of my heart breaking, because there might be even more drama going on with the Kardashian sisters (on top of the recent explosive fight that's set to air in an upcoming episode of Keeping Up With The Kardashians). This time, however, it's all going down on social media. If you've already peeped what I'm talking about, you might be wondering if Khloé Kardashian shaded Kourtney with this IG post of Kim.
The speculation started on Aug. 4, when Khloé shared an Instagram photo of herself and her big sis, Kim, at a photo shoot for their latest Calvin Klein campaign. Elite Daily reached out to reps for the sisters for comment on the post and the reported feud, but did not hear back by the time of publication. In the image, the Good American designer is shown cradling her bare baby bump and smiling, while Kim plants a gentle kiss on Khloé's stomach. Khloé captioned the sweet moment, "Kiki + Koko," and it truly pulls on your heartstrings at first glance. But there are lines to read between here. Try not to get too wrapped up in the moment, because there is a possibility that the post could, indeed, be shade.
Cute? Absolutely. But here's some context that might make you frown at it: Kim and Kourtney got into a brutal fight like we've never seen before in an episode of KUWTK that's set to air on Aug. 5. In the clip for the trailer, the sisters were trying to schedule a family photo shoot, but Kim and Kourtney's schedules didn't align, and the conversation only got increasingly heated from there. Khloé seemingly sided with Kim, who went in on Kourtney so badly that she cried — which all true KUWTK fans know is a rare occurrence for the 39-year-old.
Kourtney doesn't appear to be over the clash just yet (as she shouldn't, considering Kim said she was the "least exciting to look at" while Khlo sat quietly on the sidelines. I mean, who says that??). Just a day before the denim designer's post, Kourtney shared an IG pic of herself and Khloé (her gal pal and ride-or-die since, like, forever) on Aug. 3 that she said taken by her "best friend" — wait for it — Kendall Jenner.
The post came the same day that Kourtney told E! News that her relationship with Kim and Khloé is an ongoing process amid the explosive fight. She also reiterated her claim that Jenner is her favorite sister, explaining:
... We're just like really best friends. We're on the same wavelength. Like we like the same stuff, we like to do the same stuff. We have good conversations, we have fun together, there's no drama with us. Kendall has my back in this season, you'll see. When I was watching some cuts, I see my sisters talking about me and I obviously have no idea because I wasn't there and I'm like, 'What?! They're saying this about me?' And then Kendall has my back.
The could-be shadiness doesn't stop there, though. Kim took to social media on Aug. 3 as well, sharing a photo of her and Khloe's daughters — Chicago West and True Thompson, respectively — playing together on Instagram. The KKW Beauty mogul captioned the moment, "Best friends for life!!!! 💕"
OK, this one is probably more innocent, because the cousins are so close in age, how could they not be besties?! In fact, Khloé recently alluded to the fact that Chicago, True, and Stormi (Kylie Jenner's baby girl) are referred to by the famous sisters as "the triplets." In a July 28 tweet from Khloé, she wrote, "ANDDDD she has her two cousins to be her besties. We call them the triplets it's just the cutest!! GOD IS GREAT."
All things considered, Khlo's post is pretty benign — and really just a sweet sister moment — but it's hard to avoid mixing it in with all the apparent drama. When it comes to Khloé's could-be shade, who knows? But c'mon ladies, hopefully you all can get past this little debacle and go back to having fun and loving relationships. We're counting on it.