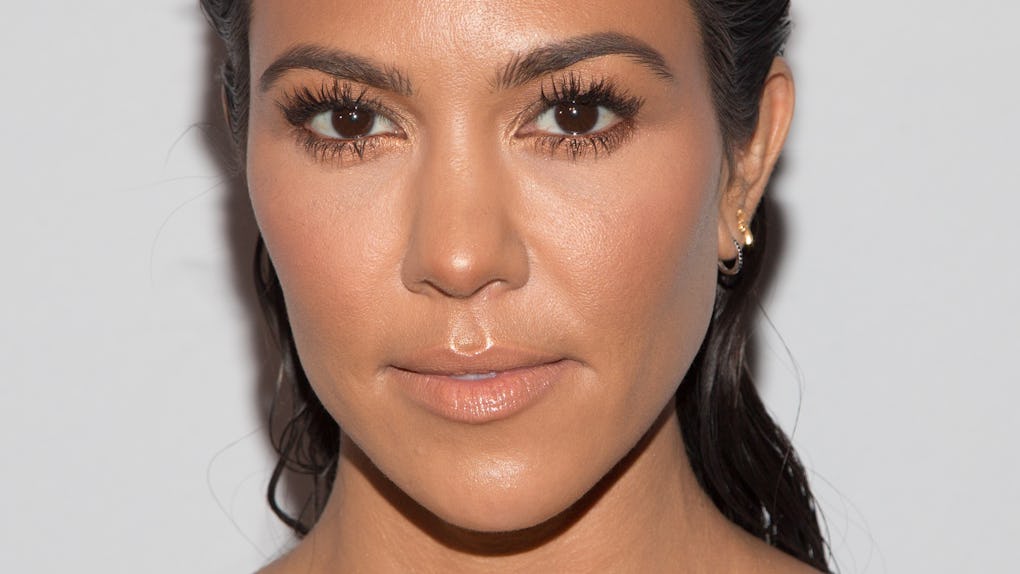 Gabriel Olsen/Getty Images Entertainment/Getty Images
Kourtney Kardashian's Comment About Feeling "Picked On" By Her Family Will Break Your Heart
Oh boy, here we go again. Another day, another dramatic situation in the Kardashian household. It looks like Season 15 of Keeping Up With The Kardashians is going to be one for the books, and I'm not even entirely sure if it's in a good way or not. But I do know one thing: Kim Kardashian's comments about Kourtney have been breaking my heart, and Kourtney Kardashian's comment about feeling "picked on" is actually beyond sad.
In an exclusive clip from Sunday's episode of KUWTK, we were stuck straight in the middle of a heated argument, after Kim realized that the scheduling of the family Christmas photo shoot had a time conflict on Kourtney's end. Some pretty harsh words were exchanged (mainly of Kim's end), and as Kourtney was walking out of the room, presumably to cool off, Kim yelled, "I need Kourtney to not be so f*cking annoying with a stick up her *ss like she f*cking runs this sh*t. Because she doesn't. She's the least exciting to look at."
Um, ouch?
But it, unfortunately, gets worse, because a second clip was released, and it looks like it picked up almost exactly where the first clip left off. After Kourtney storms out of the house, leaving Kim, Khloé, and momager Kris Jenner on their own, Kourtney calls Khloé and vents about how she feels about Kim.
"I'm not here to be mistreated by my f*cking b*tch family. Kim saying that I'm the least interesting to look at — who even speaks like that?" she sobs, and I am pretty much on her side with this one. She continues, telling Khloé on speakerphone, "You guys just have really different values than me. I choose to be a mother to my three kids. I am not here looking for another job. I already work enough, more than I would like to."
Yes, girl. You tell 'em!
After Kim tells Kourtney that she doesn't "do f*cking sh*t," Kourtney calls her a "very distraught, evil human being," adding, "I'm not going to live my life around people that make me not feel good on a daily basis."
The conversation pretty much ended with Kim calling Kourtney a "f*cking lunatic," which was so not cool, and that was pretty much that.
Until.
Kourtney spoke with E! News exclusively about the argument, and gives an update on how the family has been doing since the harsh words were exchanged. She said:
I think it started at the end of season 14, a lot of tension building between us. I felt like every day almost I was being picked on and criticized and I just couldn't take it anymore.
When asked if the feud has been resolved, Kourtney tells E! News that it's "ongoing," but that she's learned a lot from the encounter:
Honestly, I think it's ongoing. I've been really working on myself a lot and I think through my growth, I'm better at expressing myself. I think in the past I've always been great at like not being emotional. I think that I'm better now at expressing my feelings ... It's definitely a process and you'll see it throughout the season.
But the one family member that Kourtney can confide in? Little sister, Kendall Jenner. "We're just like really best friends. We're on the same wavelength," she revealed to E! News. "Kendall has my back in this season, you'll see. When I was watching some cuts, I see my sisters talking about me and I obviously have no idea because I wasn't there and I'm like, 'What?! They're saying this about me?' And then Kendall has my back."
See, this is why Kendall is my favorite! Supporting her sis when the going gets tough.
All the heart-eyes for you, Kendall.
Looks like we'll just have to wait and see it all unfold on the big screen. August 5 literally can't come soon enough.