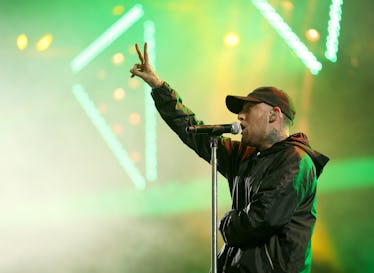 Mac Miller Fans Are So, So Heartbroken Over The Rapper's Reported Death
Christopher Polk/Getty Images Entertainment/Getty Images
It's a sad day in the entertainment world. According to TMZ, Mac Miller has died at the age of 26. Fans all over the world took to social media to pay their respects, and these tweets about Mac Miller's death will honestly tear your heart into pieces.
TMZ's report claims that Mac, real name Malcolm McCormick, was found dead at his San Fernando Valley home on Friday, Sept. 7. TMZ claims he suffered from an apparent drug overdose, though Mac Miller's team has not confirmed that report. Elite Daily reached out to his team for comment on the report of his death and reported drug overdose, but did not hear back by the time of publication. Minutes after the initial report went out, Us Weekly confirmed Miller's death on their website.
The news comes after reports that Mac Miller was arrested for an alleged DUI on May 17 after reportedly crashing his G-Wagon into a pole near his home in the San Fernando Valley. Elite Daily reached out to Mac Miller's team for comment on the arrest at the time news of the accident first broke but did not hear back by the time of publication. He was formally charged with the alleged DUI on Aug. 21.
Personal life aside, Mac Miller had fans all over the world who loved his music. He just dropped his album Swimming on Aug. 3 and was planning to start his next tour on Oct. 27 in San Francisco, California.
Fans on Twitter are absolutely heartbroken over the loss.
One notable reaction fans are looking out for is from Mac Miller's ex-girlfriend, Ariana Grande. Mac Miller and Grande broke up back in May 2018. At the time, TMZ reported the couple split due to their work schedules. Not long after the news broke, Grande took to her Instagram story to post a beautiful statement about Miller. She said:
Hi! This is one of my best friends in the whole world and favorite people on the planet Malcolm McCormick I respect and adore him endlessly and am grateful to have him in my life in and form, at all times regardless of how our relationship changes or what the universe holds for each of us!
It's hard to forget that Mac Miller was one of the first people Ariana Grande found comfort in after the attack at her Manchester concert on May 22, 2017.
The news of Mac Miller's death comes just one day after Vulture's profile on the rapper. He spoke to the publication about how his public image compares to reality. He said:
Maybe that's just a game that I haven't gotten into playing. But it just seems exhausting to always be battling something … to always be battling for what you think your image is supposed to be. You're never going to be able to get anything across. It's never gonna be the real … No one's gonna ever really know me. You know what I mean? That's okay. The people that have the best chance of knowing me, that would like to, would just be by listening to my music.
This world was lucky to have Mac Miller, and now fans can use his music to remember his legacy.
If you or someone you know is seeking help for substance use, call the SAMHSA National Helpline at 1-800-662-HELP(4357).