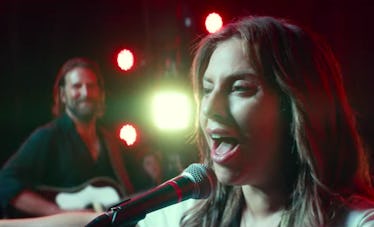 'A Star Is Born' Got Nominated For 4 Grammys, So Twitter Is Celebrating
WARNER BROS. PICTURES
If you saw A Star Is Born, then you were probably rooting for the film to score some Grammy nominations (I know I was). These tweets about Lady Gaga and the A Star Is Born Grammy nominations prove that the Twitterverse felt the same way. Why? Because "Shallow" was nominated for four Grammys for 2019 — and people are seriously stoked.
"Shallow," a song composed by Lady Gaga and Bradley Cooper, was introduced to the world after its A Star Is Born debut. Needless to say, audiences everywhere adored the track the second they heard it. Apparently, the Recording Academy loved it, too — because it was nominated for four Grammy awards. TBH, the awards it was nominated for are pretty major (which isn't much of a surprise). They include Song of the Year and Record of the Year, which, in my humble opinion, are two of the most prestigious Grammys an artist can win.
Naturally, Twitter is overjoyed that Gaga and Cooper are up for the nomination. I don't blame them, though. After seeing A Star Is Born (and sobbing the entire time), I couldn't stop listening to "Shallow." With that being said, I'm totally rooting for the songwriting duo to take home the gold — and a lot of people on social media feel the same way.
If you need a little refresher about how the tune goes, check out the tweet below.
And then, you can celebrate with everyone else.
See what I mean? Fans of A Star Is Born are stoked for Gaga and Cooper's "Shallow" nomination, and they're hoping the duo wins both awards.
However, some fans of the film noticed one thing about the nominations that's kind of a bummer. Apparently, the soundtrack for A Star Is Born wasn't released in time to be nominated for Album of the Year. According to Indie Wire, only albums released before Oct. 1 were eligible for a nomination. Per the Grammy website, this year's eligibility period ran from Oct. 1, 2017 through Sept. 30, 2018. As you may or may not know, the A Star Is Born soundtrack was released on Oct. 5, which means it didn't make the cut. I'd like to think that if it was released on time, it would have been nominated for a third award.
Now, you're probably wondering how "Shallow" was nominated for four awards if the entire A Star Is Born soundtrack wasn't nominated for any. The answer is quite simple, though. Believe it or not, "Shallow" was released as a single on Sept. 27 after being featured in the film's trailer. Therefore, it made the cut and was able to nominated for a Grammy (or four).
Because of that, A Star Is Born fans can rejoice and cross their fingers that "Shallow" wins the awards for Song of the Year, Record of the Year, Best Song Written for Visual Media, and Best Pop Duo/Group Performance. While you're waiting for the big announcements to come, take a minute and recognize the other musicians who worked on the track, which include Mark Ronson, Andrew Wyatt, and Anthony Rossomando. TBH, I'd like to give all of them a hug for bringing "Shallow" to life — because it's definitely one of my favorite songs of 2018.