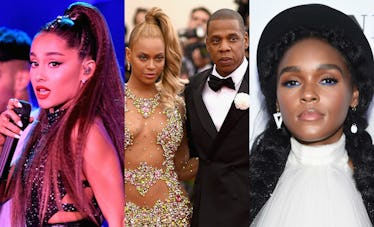 The Tweets About The Grammy Nominations Will Have You So Excited For The Show
Kevin Winter/Dimitrios Kambouris/Getty Images
Brace yourselves: The Grammy nominations have finally arrived, at long last. In case you haven't already heard, the Recording Academy announced its annual list of Grammy nominees for the 2018 music year on Friday, Dec. 7, and to be completely honest, tweets about the 2019 Grammys nominations are a little mixed this year. Some of the nominations are very deserved and make this particular pop culture writer very, very excited, but there are some definite snubs on this list that many fans on Twitter are not happy about.
As many of you probably imagined, Drake and Cardi B lead the pack of nominations with nods for Scorpion and Invasion of Privacy, respectively. The most positive thing about this year's list of nominees is that — unlike last year — there is more than one woman in the Album of the Year category, and women of color are included. Actually, the award is stacked with women, which is amazing to see. The women in that category, along with Cardi B, include H.E.R. with her self-titled album H.E.R., Brandi Carlile with By The Way, I Forgive You, Kacey Musgraves with Golden Hour, and Janelle Monae with Dirty Computer.
Fans are also super excited about Lady Gaga and Bradley Cooper getting some nominations for their music in the critically-acclaimed film A Star Is Born. They were nominated for Record of the Year and Song of the Year for "Shallow."
As you can see, Twitter is pretty happy about these noms.
Some of the most upsetting snubs on this year's list, however, are serious oversights in the eyes of many fans. For example, Ariana Grande was nominated for Best Pop Solo Performance and Best Pop Vocal Album, but she was snubbed from the bigger awards like Album of the Year and Record of the Year.
Twitter's message to the Grammys is essentially, "do better."
Dang. I don't know about you, but I was personally a little disappointed in the nominees this year. While several artists were nominated, they weren't included in the better categories that many feel they deserved.
A big shocker to fans, however, was Taylor Swift's Reputation not getting nominated for Album of the Year.
Swift is the only woman in history to win Album of the Year twice. In fact, she has been nominated for the highly respected award three different times. That's super impressive, IMO.
If you haven't already seen it, here's the list of 2019 Grammy nominees. A ton of amazing artists were given the nomination, so it'll be exciting to see who goes home with the Gramophone in February.
The annual Grammys broadcast will be aired on CBS on Sunday, Feb. 10 at 8 p.m. EST. The nominations were originally slated to be announced on Wednesday, Dec. 5, but they were postponed to Friday, Dec. 7 in observance of the death of President George H.W. Bush.