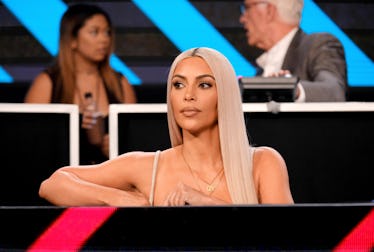 Khloé Kardashian's Fans Are Pissed At Kim K For A Pretty Serious Reason
Kevin Mazur/One Voice: Somos Live!/Getty Images Entertainment/Getty Images
By now it's no secret that Khloé Kardashian's world has been turned upside down by reports that boyfriend Tristan Thompson allegedly cheated on her. And while the pregnant reality star has yet to make a public statement regarding the alleged infidelity, her sister Kim Kardashian has all but skirted the issue. The Kardashian clan tends to stay notoriously mum in times of personal and public duress, but Kim is loving the limelight right now and fans are not happy about it. In fact, many fan tweets about Kim Kardashian during Khloé and Tristan's cheating allegations are harsh.
Incredibly harsh. But there's a good reason for that.
On April 10, The Daily Mail claimed Tristan Thompson was caught cheating on Khloé Kardashian in a New York City club. The video accompanying the article seems to show Thompson speaking to a woman in the bar. The Daily Mail also claims the video shows Thompson kissing the woman. TMZ later shared an October 2017 video of Thompson with two women at a hookah bar. TMZ claims the video shows Thompson kissing one of the women. Elite Daily reached out to Kardashian and Thompson's teams regarding both reports and videos but did not hear back by the time of publication.
While Khloé and the rest of the Kardashian clan are likely keeping a low profile, Kim is putting pretty much all her business on social media — without even addressing the cheating rumors. And Khloé's fans are really disappointed in her for not sticking up for her baby sis.
Instead, Kim is all over Insta posting snazzy photos of herself, Kourtney, and friends. By the looks of things, they're enjoying some time on the beach, taking in some rays and just doing what you'd expect Kardashians to do.
And here's another one:
And yet, another one:
Sure, the Kardashian sibs look fantastic in their beach attire and no one should ever take that away from them. But is it maybe a little bit insensitive that they're living it up (or, at least, appearing to do so) while pregnant sis Khloé is dealing with such a public mess of allegations?
With a family as tight as the Kardashians, one would think that Kim would say something. Anything. It's well known that these ladies stay quiet to maintain an air of solidarity... and to also breed mystery and intrigue. Because that's what sells magazines and boosts ratings, right?
But is this even the right time to be thinking about that stuff? Probably not, which only further outrages Kardashian fans.
And you know what? They're taking their pitchforks to Twitter to express their disappointment and even disdain for Kim K right now:
While those fans are pretty enraged by Kim's seeming lack of support, other fans are going on the defensive:
That last tweet seems like the most likely scenario. Remember, the Kardashians aren't stupid and they learned from the best stage mom in the business: Kris Jenner. Changing up the news cycle and distracting the mainstream media from giving even more credence to the cheating allegations may be exactly the kind of support Khloé needs. Not only will it keep at least some of the stress of the situation down, but it proves that Khloé's siblings ultimately have her back.
Whatever the case — whether Kim and Kourtney are just being frivolous or they actually are trying to redirect the news cycle — I'm sure they're going to be there for Khloé no matter what. That's what those Kardashians are all about anyway, even if they do partake in publicity stunts and the like.
So, when all this fan outrage blows over and the rumor mill dies down, I feel confident that Kim, Khloé, and the rest of the Kardashian sibs will be just fine. There's a huge support system rallying around Khloé, so whatever comes of these cheating allegations (and the birth of her baby) will hopefully be a load Khloé doesn't have to carry all by herself. Have faith, Khloé fans!