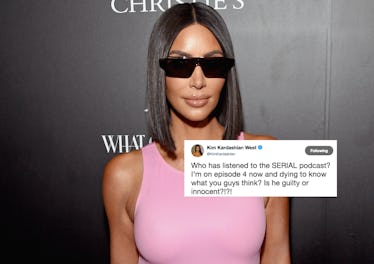 Kim Kardashian Is Getting Trolled So Hard For Discovering 'SERIAL' 4 Years Late
Michael Kovac/Getty Images/Twitter
Kim Kardashian is getting trolled so hard for one of her latest tweets. The reality star often tweets about her new "obsessions," but her most recent obsession is hella outdated. Kardashian tweeted about the Serial podcast on Aug. 26 as if it was a brand new pop culture fad, but the podcast was popular literally four years ago. Homegirl is really behind, and now Twitter is trolling Kim Kardashian for it.
"Who has listened to the SERIAL podcast?" she tweeted on Aug. 26. "I'm on episode 4 now and dying to know what you guys think? Is he guilty or innocent?!?!"
Girl, where were you when this podcast was actually popular? She responded to all of the tweets trolling her saying, "Ok wait so still listening to the serial podcast. But so what I'm 4 years late, I just heard about it! Any other good podcasts to listen to?" It seems like she really thought this was a new podcast when she first tweeted about it. Serial season one is amazing, of course, but it was more amazing when it was brand new and not old news, Kimmy.
She started by asking who has listened to the show.
She even tweeted a link so other people could "discover" it with her.
Great find, Kim! The tweets trolling her about this are my new favorite thing.
Kardashian tried to defend herself later that night saying she was late to hear about it.
But honey, we knew that already.
Serial season one was the addictive true crime story about Adnan Syed and whether or not he murdered his ex-girlfriend in 1999. He was sentenced to life in prison in 2000, so he had already been in prison for a little over a decade when Sarah Koenig's investigative podcast was released raising serious doubts about his guilty verdict. The show was so influential, it got him a new trial in 2016 resulting in his sentence being vacated (aka rendered legally void). In March of 2018, another court upheld the vacated sentence, which puts Syed even closer to being free.
Syed's lawyer Justin Brown said in 2016 that securing Syed a new trial wouldn't have been possible without Serial providing more evidence that he wasn't given sufficient representation in his first trial in 2000.
Brown, according to US Weekly, said in a news conference in 2016, "I don't think so," when he was asked if this trial would've happened without Sarah Koenig. He added that Syed being granted a new trial made him confident that he'll walk free one day. "I'm feeling pretty confident right now," he said in the press conference. "This was the biggest hurdle. It's really hard to get a new trial."
Kim Kardashian successfully advocated for Alice Marie Johnson to be pardoned by President Trump, so maybe now that Serial is her new ~obsession~, she can hopefully help out Adnan Syed next. Anything is freaking possible nowadays.