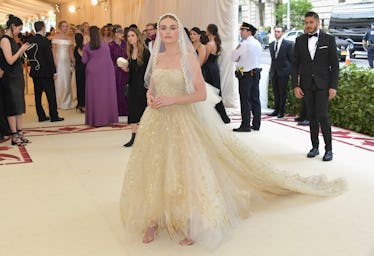 Kate Bosworth Literally Looks Like A Bride At The Met Gala & I'm Screaming
Neilson Barnard/Getty Images Entertainment/Getty Images
Celebrities showed up on the 2018 Met Gala red carpet in their Sunday best... or at least, some did. While a few of fans' favorite celebs brought heavenly to the red carpet, some fell a little short. But one celeb really brought the angelic look on the red carpet, and these tweets about Kate Bosworth's 2018 Met Gala dress show she came to pray... I mean, slay.
Bosworth was a vision on that carpet on Monday, May 7. Her looks was elegant, subtle, and totally on point with the theme. She was giving off some very bride-meets-the-Mother-Mary vibes and it totally worked. Her hair and makeup were subtle, very soft, and totally suited her. True, compared to other looks fans have come to expect from celebs at the Met Gala, Bosworth's Oscar de la Renta gold tulle dress offered up a pretty simple silhouette. It was not over-the-top or kitschy, but it worked. Her pearled veil, though, well, that really took the whole look to the next level.
Fans were immediately screaming over Bosworth's Met Gala look, and totally felt that she was deserving of a best-dressed spot for the night. She managed to take the "Heavenly Bodies: Fashion and the Catholic Imagination" or "Sunday Best" theme and make it her own.
Back in November, the Metropolitan Museum of Art announced that the theme of this year's Met Gala and exhibit (the part everyone watching at home doesn't get to see after all the celebs make their way down the red carpet), would be "Heavenly Bodies: Fashion and the Catholic Imagination." The official dress code, as given by the museum, was "Sunday's Best." Now, my first thought upon hearing the them was, "huh?" I understand that the fashion theme follows whatever the exhibit theme is but "Sunday's Best" sounds a little, well, like it could go horribly wrong. But it seems that the celebrities at the 2018 Met Gala decided to interpret the theme however they wanted, which left fans on the lookout for A-listers who actually came decked out in extreme Catholic vibes (that's a sentence I never thought I would ever write, aren't our proud Mom and Dad?).
It took awhile for the real shocks to make their way onto the 2018 Met Gala red carpet, but as more rolled in, it was evident that some celebrities came to play.
Everyone was super eager for Rihanna to show up, and boy, did she show up. RiRi took that theme and ran with it. She showed up as a decked out, bedazzled shiny pope; that's really the only way I can describe it. She took us to church, and then some.
Take a look for yourself.
Another on-theme favorite of mine from the 2018 Met Gala was Bella Hadid's look. It was like dark bride meets nun meets dominatrix? It had leather, it had lace, it had latex. There was a lot going on, but I didn't mind it. She looked amazing, totally adding it to my closet vision board.
Also, I have to mention Sarah Jessica Parker. If there was ever a night that Carrie Bradshaw was doing the outfit picks, this was it. SJP went totally over-the-top but understood what the night was about and how to interpret a theme. I could never pull it off, but it made my jaw drop.
This godly theme was definitely and interesting choice, but the celebs who decided to run with it and be playful totally won the night. Bosworth's Mother Mary look was gorgeous and understated but still kept up with the more extra looks of the night. All in all, I think it was a night of great fashion. Now excuse me while I go try to DIY SJP's crown.