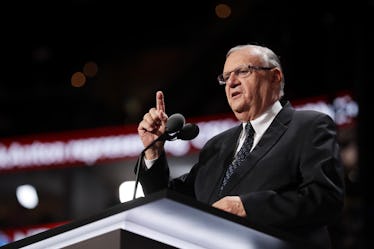 A Controversial Sheriff Trump Pardoned Is Running For Senate & Twitter Is Losing It
Chip Somodevilla/Getty Images News/Getty Images
While the world works itself into a lather over the possibility of Oprah Winfrey running for president, another figure emerged in the talk of political races on Tuesday, Jan. 9. But this latest name in political chatter is a lot more controversial, judging by these tweets about Joe Arpaio running for Senate. The former Arizona sheriff is looking to replace the seat that will be vacated by Republican Senator Jeff Flake.
"I am running for the U.S. Senate from the Great State of Arizona, for one unwavering reason: to support the agenda and policies of President Donald Trump in his mission to Make America Great Again," wrote Arpaio on Twitter. Flake announced in late October that he would not seek reelection, citing the Trump presidency in his reasons.
Arpaio's name popped up in headlines in August 2017 when it was reported that President Donald Trump was considering pardoning him. Arpaio was convicted of criminal contempt in July 2017 after violating a 2011 court order in a racial-profiling class action lawsuit against his Maricopa County sheriff's office. He was found guilty of racial profiling in 2013, using traffic stops disproportionately against Latinos. In addition to reports of brutal treatments of inmates, he was reported to have illegally detained 171 immigrants.
On Aug. 25, 2017, Trump announced that he'd gone through with the pardon, writing on Twitter, "I am pleased to inform you that I have just granted a full Pardon to 85 year old American patriot Sheriff Joe Arpaio. He kept Arizona safe!" The announcement drew serious backlash.
In an interview with Fox News in August, Trump said of Arpaio,
Is there anyone in local law enforcement who has done more to crack down on illegal immigration than Sheriff Joe? He has protected people from crimes and saved lives. He doesn't deserve to be treated this way.
He has done a lot in the fight against illegal immigration. He's a great American patriot and I hate to see what has happened to him.
And after the news on Tuesday that Arpaio would be running for Senate, Twitter was not happy. There were a few main themes among the criticism of his candicacy announcement.
He's not exactly in his prime years.
At 85, the sheriff has already logged a long career, with 24 years as a sheriff.
NBC's Vaughn Hillyard, who apparently spoke with Arpaio about the announcement, said that the former sheriff was looking to bring "fresh blood" into Washington. What exactly he meant by that was unclear.
Arpaio's got a reputation — and a criminal record.
Though Arpaio never saw a day in jail, people haven't forgotten the fact that he was sentenced to six months for criminal contempt, violating the court order to stop racial profiling.
The candidate doesn't appear to be concerned about his record, though. Per a quote from Hillyard, Arpaio says "Trump did the right thing" by pardoning him.
Some people were getting déja vu.
The candidacy of Arpaio has drawn several comparisons to Roy Moore, the GOP hopeful in the December 2017 special election to elect Alabama's Senator. Moore, who was accused of sexual misconduct with minors, lost the election to Democratic opponent Doug Jones.
People also made predictions based on Trump's persistent claim that voter fraud had influenced the 2016 presidential election (he'd even set up a commission to investigate this, and it ended only a few days ago).
Even Dictionary.com, possibly the tamest Twitter presence, threw some subtle shade at Arpaio.
Per CNN, Arpaio joins the race with likely Republican candidates Martha McSally and Kelli Ward, and could face off against Democratic prospect Kyrsten Sinema. Trump won in Arizona by just 4 percentage points, meaning this state could end up being a battleground between the parties.