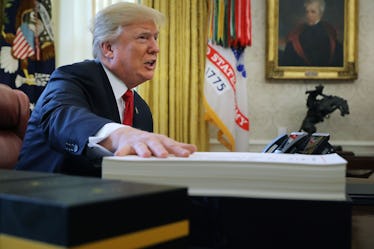 Donald Trump Ended His Voter Fraud Commission, Because Really What Were We Expecting
Chip Somodevilla/Getty Images News/Getty Images
It seems that Donald Trump continues to struggle to understand that no, he did not win the 2016 popular vote, and no, he was not well liked by the public. Amid his pursuit to prove voter fraud amid the U.S, it seems that Trump has finally decided to cease his rampage, at least for now. Fighting a highly controversial battle over the year, Trump ultimately has decided to end his voter fraud commission. A collective sigh wafts around the room.
On Jan. 3, Trump announced his decision to sign an executive order ceasing the controversial voter fraud commission, according to the Associated Press. A White House statement blamed the decision on numerous states' refusal to provide voter information to the controversial Presidential Advisory Commission on Election Integrity.
According to White House Press Secretary Sarah Huckabee Sanders, Trump decided to dissolve the commission rather than continue fighting legal battles. In a statement via Sanders, Trump said,
Despite substantial evidence of voter fraud, many states have refused to provide the Presidential Advisory Commission on Election Integrity with basic information relevant to its inquiry... Rather than engage in endless legal battles at taxpayer expense, today I signed an executive order to dissolve the commission, and have asked the Department of Homeland Security to review these issues and determine next courses of action.
The commission was put together in May 2017, after Trump repeatedly claimed that he had lost the popular vote due to millions of people voting illegally. But some people had a few raised eyebrows, thanks to the fact that Trump is notoriously obsessed with how well he won the 2016 presidential election. Although Trump won the electoral college and the presidency, he lost the popular vote to opponent Hillary Clinton by around 3 million votes. And since then, the current president has been more or less obsessed with proving those results were due to national voter fraud occurring throughout the election, rather than any unpopularity.
Despite the president's ardent insistence, studies have proven that voter fraud is extremely rare. The 2016 election sparked a great number of voter fraud studies, many debunking the myth of widespread illegal voting. But a 2014 study found only 31 possible incidents of voting fraud by in-person voters in 14 years of voting, per The Washington Post. The paper also looked at specific claims, such as Trump adviser Stephen Miller's claim that Massachusetts residents were allegedly bussed into New Hampshire to vote illegally in 2016. The Post's study found that there was no evidence of voter fraud in New Hampshire.
And the commission may have done more harm than good. One of the most controversial aspects of this commission among states was its invasiveness towards voters' personal information. According to the Brennan Center of Justice, the commission allegedly sparked around 15 lawsuits in federal state courts, one of which came from its own commissioner, Maine Secretary of State Matthew Dunlap, who said that it violated transparency and privacy laws. Civil and voting right groups such as the ACLU claimed the commission was an attempt to take personal voting information in order to allegedly introduce and justify new laws to restrict voter turnout.
But now, it seems, Trump has given up. And Twitter, of course, found plenty to mock.
While this may serve as a small victory in a much larger framework, perhaps it will also serve as a reminder to understand the importance of voting.
This year's election prompted a record breaking turnout for voters, where a recorded 46 million individuals turned up on Election Day to cast their votes, and a total of 139 million Americans voted overall that year, per Business Insider. No matter your political party or preference, always remember:
Hey, it's always good to be reminded. Your vote does count.