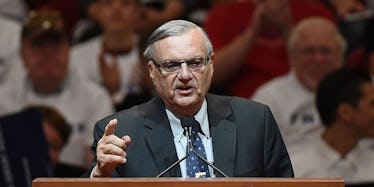 Trump Is Considering Pardoning This Sheriff For The Most Unbelievable Reason
Ethan Miller / Getty Images
Though headlines on Monday were abuzz with stories about Charlottesville, another story is getting a lot of bad press for the president. Yet again, it may turn out that President Donald Trump's words will come back to bite him. Fox News published a story revealing that Trump is considering pardoning Arizona sheriff Joe Arpaio, who was found guilty of criminal contempt in July after disobeying a judge's order to stop racial profiling.
Arpaio, 85, is a former Maricopa County sheriff famed for his brutal treatment of inmates and intentional "round-ups" of immigrants over several years, including using traffic stops. Arpaio's office was found guilty of racial profiling in 2013, AZ Central reports, and after the sheriff refused to heed Judge Murray Snow's orders in that case, Federal Judge Susan Bolton found him guilty of criminal contempt on July 31. He stands to serve six months in prison for the offense.
In the exclusive interview this weekend from Bedminster, New Jersey, Trump told Fox News that he was "seriously considering" a pardon, as early as this week. Referring to Arpaio, Trump was quoted saying,
Is there anyone in local law enforcement who has done more to crack down on illegal immigration than Sheriff Joe? He has protected people from crimes and saved lives. He doesn't deserve to be treated this way.
He has done a lot in the fight against illegal immigration. He's a great American patriot and I hate to see what has happened to him.
Elite Daily reached out to the White House for further comment but did not receive a response at the time of publication.
The news of the potential pardon came just hours before Trump gave a second statement condemning the violence in Charlottesville, Viriginia over the weekend, when James Alex Fields Jr. allegedly attacked counter-protesters at a white nationalist rally on Saturday, leading to one death and 20 injuries.
But if Trump hoped to gain any brownie points for finally condemning the violence in Charlottesville, it was poor timing. The president endured a firestorm of criticism after making initial remarks on Sunday. Responding to pressure, he gave a second statement on the Charlottesville attack in which he explicitly condemned racists, white supremacists, and neo-Nazis on Monday.
This unfortunate timing led many to jump on the inconsistency on social media. Many are calling Trump out for hypocrisy on his earlier speech in light of the potential pardon.
According to AZ Central, Arpaio's original trial revealed that he had illegally detailed 171 immigrants who hadn't committed any crimes.
In regards to the possibility of a pardon, Arpaio, a longtime supporter of Trump, told Fox News,
I am happy he understands the case. I would accept the pardon because I am 100 percent not guilty.