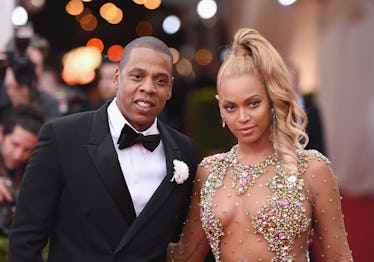 Twitter Is Losing It For Beyoncé & JAY-Z's New Album & OMG, It's Incredible
Mike Coppola/Getty Images Entertainment/Getty Images
Beyoncé and JAY-Z proved they are the queen and king of surprise album releases when they quietly dropped a joint album on Saturday, June 16. The Carters announced their new music at the end of their OTR II concert in London, and have fans have been going wild for the new tunes. These tweets about Everything Is Love prove that fans are very much here for the surprise album release.
Fans have so much love for this power couple, so it's not surprising that the reaction to Everything Is Love has been overwhelmingly positive. I mean, new music from either half of this talented couple is a welcome surprise, so a joint album with nine new tracks is even better news for Bey and JAY fans. The album is exclusively available on TIDAL, but you can also listen to and watch the full music video for "APESH*T" on YouTube.
Oh, and if that's not enough, you can check out another single from the couple on TIDAL that's not on Everything Is Love. To keep the surprises coming on Saturday, Beyoncé and JAY-Z also released "SALUD!," which is a single separate from the new album, per Pitchfork. If you're keeping count, that's three Bey and JAY surprises (a surprise album, music video, and single) that you need catch up with.
If you need a push to give all the new tracks a listen, just check out the glowing reviews from fans on Twitter.
Fans are also referring to this new joint album as the ending piece of a trilogy that is: Bey's Lemonade, JAY-Z's 4:44, and their collaborative Everything Is Love. You'll recall that Bey pulled a surprise release of her own when she released Lemonade in April 2016, and the album was in large part about getting over JAY-Z's infidelity. When 4:44 came out in June 2017, JAY-Z apologized for cheating on Queen Bey, and now the couple has come back together in Everything Is Love.
All is well that ends well — even if you still don't know for certain who "Becky with the good hair" really is.
The new tracks on this surprise album hit all the right notes for Bey and JAY fans, and they were not shy about letting their love for Everything Is Love be known on Twitter.
Fans also took to Twitter to share their favorite songs, and "Boss" and "Nice" seem to be particularly quotable hits.
Other fans noticed that the Everything Is Love stepped on the Friday, June 15 release of a new album from Nas called Nasir. Nas and JAY-Z have reportedly had longtime problems with each other that stemmed from Nas missing a 1996 studio session with JAY, per Rolling Stone. Fans took notice that JAY-Z happened to drop a surprise album with his superstar wife just a day after the Nasir release, and they didn't think it was pure coincidence.
Beef or no beef, fans are excited about all the new tracks Everything In Love has to offer.
While the album release was a surprise, the love for The Carters from their fans was totally expected. It seems like listening to Everything Is Love is pretty much everything Bey and JAY fans have been doing since its drop on Saturday — and I don't think the fans would want it any other way.
Again, if you have yet to get in on the new album action, you can start a free trial from TIDAL to make sure you get all the Everything Is Love lyrics down before you see Bey and JAY during their ongoing OTR II tour this summer.