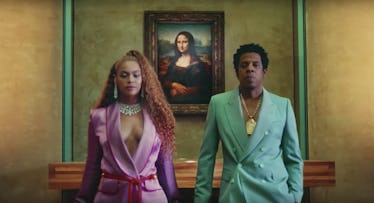 Beyoncé & JAY-Z's New Song "Apesh*t" Is All About Their Fans & I'm Honestly Obsessed
YouTube/Beyonce
Summer 2018 has officially begun, y'all, because Beyoncé and JAY-Z dropped a surprise collaborative album called Everything Is Love on Saturday, June 16, and it will give you life. Fans first got word of the album at the couple's show in London as part of their On The Run II tour on Friday, June 15, and just a day later, it showed up on Tidal. And, you guys... there's even a new video for their song called "Apesh*t," and it's quite honestly a cultural masterpiece. The meaning of "Apesh*t" on Everything is Love is all about the couple and their fans, and shows how thankful they are for those who go hard for them.
The song, which also features Quavo, starts of with Bey singing,
Stack my money fast and go (fast, fast, go) fast like a Lambo (skrrt, skrrt, skrrt). I be jumpin' off the stage, ho (jumpin', jumpin', hey, hey). Crowd better savor (crowd goin' heavy). I can't believe we made it (this is what we made, made). This is what we're thankful for (this is what we thank, thank). I can't believe we made it (this a different angle). Have you ever seen the crowd goin' apesh*t?
The first verse is also Beyoncé and Quavo, and goes a little like this:
Rah, gimme my check. Put some respeck on my check, or pay me in equity, pay me in equity, or watch me reverse out the d*ck. He got a bad b*tch, bad b*tch. We live it lavish, lavish. I got expensive fabrics, I got expensive habits.. He wanna go with me (go with me). He like to roll the weed (roll with me). He wanna be with me (be with me). He wanna give me that vitamin D (D!). Ice ornaments, icy style tournaments (whoo!). You ain't on to this (no!). Don't think they on to this (no!). Bought him a jet, shut down Colette, Phillippe Patek, get off my d*ck!
Later on in the song, JAY calls out the Grammys and the NFL, rapping,
Motor cade when we came through, presidential with the planes too. One better get you with the residential. Undefeated with the cane too. I said no to the Super Bowl. You need me, I don't need you. Every night we in the end zone. Tell the NFL we in stadiums too.. Last night was a f*ckin' zoo. Stagedivin' in a pool of people. Ran through Liverpool like a f*ckin' Beatle. Smoke gorilla glue like it's f*ckin' legal. Tell the Grammy's f*ck that 0 for 8 shit. Have you ever seen the crowd goin' apesh*t?
From these lyrics, it seems like the couple is saying that despite the politics around them (JAY mentions he turned down performing at the Super Bowl, and he calls out the Grammys for getting shut out of a win despite eight nominations this year), they're appreciative of their fans and the ones that keep it real for them in the end. I think it's fitting that the couple decided to make this song their standout during the release.
If you want to hear the rest of the nine-song masterpiece, you can check it out on Tidal. Not a subscriber? They're offering a free six-month trial (heck yes), so now's your chance to sign up. As far as Spotify or Apple Music, there's no word yet on if the album will be available there. Elite Daily reached out to Beyoncé's team for more information on where the album will end up streaming but did not hear back by the time of publication. If you're waiting for a Spotify drop, though, don't hold your breath... Lemonade was never put on the service.