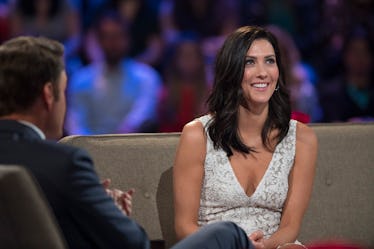 We Finally Have Our Next 'Bachelorette' & The Tweets About Her Just Won The Internet
Raise your wine glasses, folks, because we have a new lead in Bachelor Nation! We're one step closer to my favorite summertime guilty pleasure, The Bachelorette, after Becca K. was announced as the new title woman on "After the Final Rose." After two months of being subjected to ABC's belief that Arie's "wow"'s and "I like that"'s were entertaining TV, I'm so ready for a group of new, different (ish) men to be on my TV. Tweets about Becca K. being the Bachelorette are trending.
The debate of what woman from Arie's Bachelor cast would become Bachelorette has been one of the least predictable in recent years. Arkansas native Tia emerged as an early Bachelorette favorite once the cast's numbers diminished, but she received some flak for telling Arie that 22-year-old Bekah M. wasn't ready for marriage. Then coming across as totally gunning for the position of Bachelorette in her "Women Tell All" interview, Tia rubbed a few fans the wrong way, leading to Twitter fiercely campaigning for Seinne to grab the role.
As a poised and eloquent Yale graduate, Seinne would've likely delivered a Bachelorette season similar to attorney Rachel Lindsay's stint in the position. I don't think she would put up with any BS from the guys, but viewers had their doubts about ABC being progressive enough to cast two black Bachelorettes in a row. While Seinne seemingly grew even more beloved after she was eliminated and gave classy post-show interviews, she may not have received as much Bachelor airtime as a future lead usually has. But if Seinne's open to it, I have a feeling that there's a lounge chair in Paradise calling her name.
Another top contender, particularly after unedited footage of her breakup with Arie aired on Monday night, was the ultimate pick, Becca K. While her "second chance at love" storyline is perfect for a Bachelorette backstory, I really didn't think Becca would show up on any franchise ventures anytime soon. After you had your heart so brutally broken on national TV, would you want to return to the metaphorical scene of the crime?
While I understand the people who say that Becca deserves to be Bachelorette, my initial reaction, as well as that of other fans, was of concern and slight skepticism. Sometimes, the gig isn't exactly the best prize to receive, particularly when the same production team told you they would casually film your "happy couple weekend," even though it has never done so with a previous franchise couple. Can she trust these people when she's at the helm of her own season?
However, as Chris Harrison mentioned, she's willing to put her fate in ABC's hands again. Twitter is blowing up about positive reactions to Becca winning the coveted spot. After seeing how well she handled herself in her individual interview and with Arie, I'm still in total support of Becca as the Bachelorette, and I'm definitely not alone.
While Becca's fellow Bachelor ladies were practically in tears upon the news, some fans were pulling for some less obvious women to fill the role. Bachelor in Paradise star Kristina was rumored to appear as the Bachelorette after being caught in a horrible love triangle last summer, while viewers wanting something different were rooting for quirky Kendall. Those hoping for Seinne as the lead were also disappointed but somewhat expectant of her Bachelorette no-go.
You can't make everyone happy, but it looks like ABC choosing Becca as the new face of the franchise has the majority of fans happy. Season 14 of The Bachelorette, starring Becca doing the damn thing, premieres on May 28.