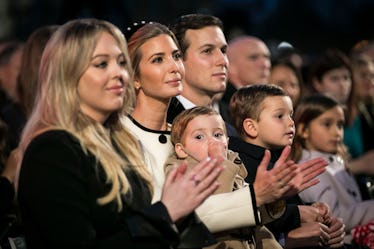 These Trump Family Photos Really Stand Out Compared To Past First Families
Pool/Getty Images News/Getty Images
President Donald Trump is far from a traditional president. The former reality star turned politician has shaken up the political world following his 2016 presidential election victory — and Trump's past isn't the only thing that makes him different from presidents past. His family is more than a little unconventional, when compared what we've seen in past administrations, at least. And these Trump family photos compared to past first families prove that. Plus, they're pretty interesting to look at side by side.
We know that Trump has a pretty big immediate family. That's (in part) thanks to his multiple marriages that resulted in a total of five children. Then throw all of Trump's grandkids into the mix and you've got a very full house.
The last three presidential administrations before Trump each lasted for two terms. That's 24 years that we've seen first families that never went into the double digits. So when Trump's ridiculously expansive family became this nation's first family, it was a strong departure from what we're used to seeing in the White House.
I don't think there has ever been a first family as expansive as the Trumps, especially when looking at first family pictures from the past. So let's do a little compare and contrast, shall we?