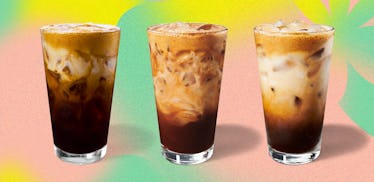 TikTok Baristas Are Sharing "Secret" Starbucks Creations Like The Churro Frappuccino
It's easy to tire out your go-to Starbucks sip. If you're feeling like you need to change it up, there are plenty of options to consider. While you could look to the regular Starbucks menu, I suggest heading to TikTok for some unique recipes from real baristas. From slight twists on classic sips to game-changing sweet combos, you may want to check out these TikTok Starbucks drinks before you make your next coffee run.
IMHO, there's nothing quite like a barista-made sip since they know the ins and outs of crafting Starbucks drinks on the reg. Whether you're looking for your next favorite coffee, tea, or lemonade creation, there's pretty much an option for everyone on TikTok. As a note, remember that these sips are not official Starbucks drinks, so when ordering from a barista make sure you tell them the full recipe instead of asking for it by name. If you're ordering in the Starbucks app, you should be able to make most of the changes, but not each drink in the online menu allows you to add each customization.
You can easily search the app for "Starbucks recipes" to find some fan or barista-made sips, but if you need somewhere to get started, take a look at these TikTok Starbucks sips for inspo.
1. Caramel Iced White Mocha
UK Starbucks barista Lizzie Dye (@starbuckswithlizzie) posted a recipe that's a twist on an Iced White Mocha. To order it, you'll ask for a Venti Iced White Chocolate Mocha with a caramel drizzle in the cup, topped off with Sweet Cream Cold Foam.
2. Dragon Fruit Lemonade & Tea
Posted by TikTok Melanie Bushrod of @thebushrods, this barista-approved sip is a take on a Dragonfruit Lemonade. Order a Venti Mango Dragonfruit Lemonade with no dragonfruit inclusions. Then ask for a dash of Peach Tea and Passion Tea on top.
3. Churro Frappuccino
Another sip from @starbuckswithlizzie, this Churro Frappuccino recipe combines a cinnamon taste with common syrups. Ask for a White Mocha Frappuccino with four pumps of White Mocha, four pumps of Vanilla syrup, and a caramel drizzle. Then, add cinnamon powder and four pumps of cream base. You can also ask for whipped cream and a cinnamon dusting on top.
4. Oreo Frappuccino
Posted by TikToker @sublime_artist, a barista who features recipes, this recipe comes courtesy of @caitlinjohnson. For an updated take on a White Mocha Frappuccino, start by ordering a Double Chocolate Chip Frappuccino with White Mocha syrup instead of regular Mocha.
5. Extra Caramel-y Macchiato
Barista Rickie (@rickietd) shared a game-changing Caramel Macchiato hack. According to the barista, a Starbucks Caramel Macchiato is made with a combination of Vanilla syrup and a caramel drizzle. That means there isn't any additional caramel aside from what's drizzled on the sides of the cup. To get an extra caramel-y sip, ask for a Grande Caramel Macchiato with Caramel syrup instead of Vanilla syrup.
6. Cookie Butter Latte
Starbucks barista and TikToker Jonny Arnott (@jonnyarnott) gathered up some TikTok recipes that are underrated — and delicious. His video features a Cookie Butter Latte, which is an Iced Chai Latte with oat milk instead of regular milk, half Chai syrup, and half Brown Sugar syrup. You can also make this a dirty chai by ordering a Brown Sugar Oatmilk Shaken Espresso sip and adding two pumps of Chai syrup.
7. White Chocolate Mocha With Strawberry
Barista and TikToker @its_kier1015 posted a recipe for a fruity take on a White Chocolate Mocha. Order an Iced White Chocolate Mocha and ask for a topping of Starbucks Sweet Cream Cold Foam with strawberry purée blended in.
8. Strawberry Cake Batter Frappuccino
This fruity recipe comes from TikTok account @starbuckssdrink. The Strawberry Cake Batter Frappuccino is a Vanilla Bean Frappuccino with strawberry purée and Hazelnut syrup. They don't specify how many pumps to add, but it looks they added four in the video.
There are plenty of barista-made recipes on TikTok to keep you sipping different Starbucks creations for weeks, so you may want to keep experimenting until you find your fave.