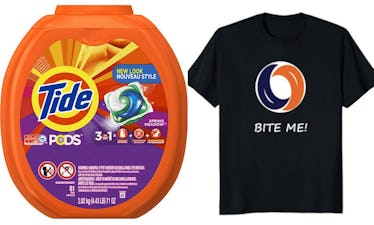 These Tide Pods Halloween Costume Ideas Are All About The Weirdest Trend of 2018
The internet is a vast, lawless void of meaningless information but it's really good at giving us Halloween costume ideas with its countless memes, hashtags, and general millennial tomfoolery. If you're still looking for a last-minute Halloween costume inspired by the internet, look no further than these five Tide Pod Halloween costume ideas. Who knew laundry detergent would play such a prominent part of 2018?
In case you forgot about the great Tide Pod fiasco of 2018, here's a refresher. In January, teenagers started biting into Tide Pods on camera and posting the videos to social media. (Side note: Please, do not do this. Tide Pods are in fact soap, and they are not edible.) The phenomena soon became known as the Tide Pod challenge and countless memes sprung forth to make light of something that adults all over the country seemed to be freaking out about: children ingesting laundry detergent.
While there was in fact cause for concern that teens were IRL eating Tide Pods, the phenomena wasn't necessarily new. According to Snopes, YouTube and Facebook videos as far back as 2011 showed daredevils biting into the colorful chemical cocktail. Though far more people consumed Tide Pod memes than Tide Pods themselves, news outlets across the country reported on the viral trend and even Tide released a video on Twitter discouraging people from eating the toxic detergent. After the fad died down, only the memes remained, and as the year went on those memes were replaced, too.
It goes without saying that you shouldn't eat Tide Pods, but what better way to revitalize the Tide Pod meme than wear it proudly as a Halloween costume? Here are five costume ideas that will have you looking like a Tide Pod snack in no time.