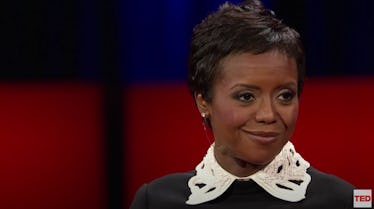 8 TED Talks About Racism To Help Further Your Education
TED / Mellody Hobson
Education is a key component to dismantling years of systemic racism in the U.S., and learning about racism from members of the Black community — who are uniquely qualified to speak, write, and educate on the subject — is crucial. There are so many ways to get information: books, documentaries, and podcasts are all popular platforms for these topics. But if you're looking for even more resources to aid in learning about the oppression and injustices faced by so many people in the U.S., these TED talks about racism, bigotry, and the country's Black history are another great place to seek more knowledge.
The TED website has a curated list of enlightening talks centered around race and racism against Black people. "From passionate pleas for reform to poetic turns of phrase, these talks take an honest look at everyday realities of Black Americans and illuminate the way forward," the introduction to the list explains.
The below is a selection of nine TED Talks from the website's collection that can further your knowledge and help you take the next steps in anti-racism education and activism. But this is just a small selection of powerful, informative Talks out there; check out the website for even more.
Further, check out the roundups of anti-racism resources on other platforms, including podcasts about race and injustice in the U.S., movies that tackle systemic racism, and documentaries about race in the U.S.