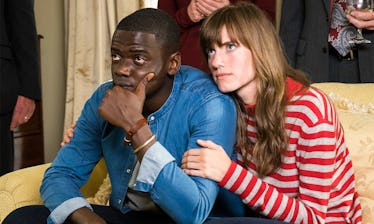 9 Movies That Tackle Systemic Racism In America
‎Blumhouse Productions
To actually combat racial injustice in our country, it's not enough to just "not be racist" — one must become actively "anti-racist." But how can you educate yourself on this topic? Storytelling has always been an excellent tool for learning to see the world through the eyes of others, and these movies that tackle systemic racism in America against Black Americans are a first step in working towards learning to be anti-racist.
It is vital to understand racism is baked deep into the fabric of our country. There is a force of structural racism in our society, that permeates all interaction. It's the default assumption of white that makes J.K. Rowling never think to mention the color of Hermione's skin. But over the years, there have been films that challenge this paradigm, giving audiences the chance to see the world from a Black perspective.
The following films, which range from 1949 to 2019, are a selection of stories to help explore how our country has and hasn't been able to move forward. The historical perspective they provide is a reminder that today's protests aren't new, and neither are the issues that sparked them. To break the cycle will require tackling the problem from an active stance moving forward.