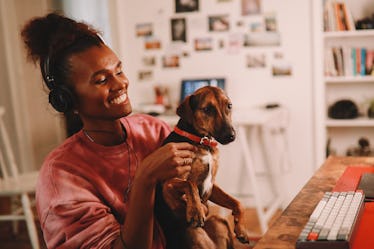 This Cosmic Office Decor Will Inspire Any Scorpio Who's Working From Home
lechatnoir/E+/Getty Images
The space you work and live in should always be a reflection of you. The art on the walls should include your favorite quotes, flowers, or animals, and that favorite mug on your desk might have the cutest engraving of your star sign. During Scorpio season, don't sleep on these Scorpio office decor ideas that'll speak to the passion in your soul and bring cosmic inspo to your workdays. Each item is sure to make you feel motivated in your space, and help you tackle hefty assignments with ease.
They're made with stardust from the Scorpio constellation or anything. But, they do have a very magical appearance that'll catch your eye first thing in the morning, when you've only had a few sips of coffee. Although you probably never want to come face to face with a scorpion in real life, this creature can be an inspirational reminder to believe in yourself and your career goals. You may see it hanging on your wall or gracing your phone charger, and say, "Today, I'm going to be like you."
Especially during Scorpio season, this type of inspiration can be game-changing. So, don't waste this season without these pieces of Scorpio office decor. Bring some cosmic vibes to your workdays ASAP.
We only include products that have been independently selected by Elite Daily's editorial team. However, we may receive a portion of sales if you purchase a product through a link in this article.