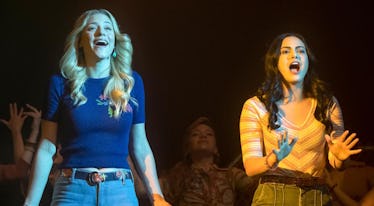 The 'Riverdale' Showrunner Just Teased Details About Season 3's Musical Episode
CW
Amid all the murder, gang wars, and cults, the teens of Riverdale will sing again in Season 3. Riverdale's cast and creative team confirmed that a new musical episode will be happening in the third season during Comic-Con a few months back, and now showrunner Roberto Aquirre-Sacasa is revealing more information about what the new musical will be about, among some other Season 3 details. As we get closer to the new season, these Riverdale Season 3 musical episode details will get you even more excited for when Archie, Betty, Veronica, and Cheryl to take the stage again... we're just waiting for you to get up there too, Jughead!
Like in Season 2, Roberto Aguirre-Sacasa confirmed to TV Line that the Season 3 musical episode will also be based on an actual musical production. As fans recall, last season's musical centered on Riverdale High's production of Carrie: The Musical — a 1988 musical adaptation of the classic horror movie — which got nearly all the main cast singing, and ended in one of the show's most macabre murders yet. Right now, the Riverdale team is apparently narrowing down which musical to have Riverdale High put on this year:
We have a lot of shows we've been talking about. There are a couple musicals we've been circling.
Given the tone of the show and the last musical that they adapted, don't be surprised if it is another dark, bloody musical, like perhaps Sweeney Todd, Little Shop of Horrors, or something campier like The Rocky Horror Picture Show.
Aside from the singing, Robert Aguirre-Sacasa also revealed more surprises that the upcoming season has in store for Riverdale fans. Thankfully, the show will resolve that big Season 2 cliffhanger right away — Aguirre-Sacasa confirmed that the Season 3 premiere will reveal the results of Archie's murder trial, so it will not be a long, drawn out court case. But, the results of that trial will apparently have a big effect on Archie's relationship with Veronica.
The other major aspect of Season 3 is the creepy new cult that is moving into town, which Alice and Polly Cooper will begin to join. We've seen this cult teased in multiple trailers, as Alice and Polly don white robes and hold Polly's twins above a fire. Aguirre-Sacasa said that this cult, known as The Farm, is one of the few big mysteries that will pop up throughout this new season.
And finally, fans will at long last get to meet the rest of Jughead's family. Apparently, Jughead's new role as the leader of the Southside Serpents is what triggers his mother Gladys' return to Riverdale, bringing his sister Jellybean with her. Of course, the biggest implication of Gladys returning to town is how it will complicate F.P. Jones' newly reignited relationship with Alice Cooper. With Gladys' return and Alice's involvement in the cult, it definitely does not look like smooth sailing for everyone's favorite parental pairing.
It all goes down when Riverdale Season 3 premieres on the CW on Wednesday, Oct. 10 at 8 p.m. ET.