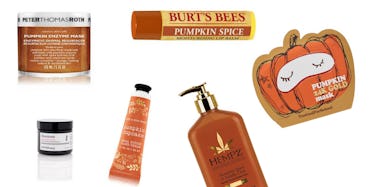 These Pumpkin Spice Beauty Products Will Hype You Up More Than A Real PSL
Peter Thomas Roth/Savor Beauty/Bath & Body Works/Hempz/Too Cool For School/Burt's Bees
With fall just around the corner, pumpkin spice is already starting to make its annual comeback. And on Tuesday Aug. 28, Starbucks announced that its beloved pumpkin spice latte would officially be making its return to U.S. and Canadian restaurants that day via Twitter, while the U.K. would be able to start enjoying the popular drink on Sept 6.
But while the latte certainly has a strong cult following, can pumpkin spice beauty products garner the same following? I definitely think so! Of course, pumpkin is delicious to enjoy in pies, drinks, or even on its own, but it also has some amazing benefits for your skin as well.
According to The International Dermal Institute, pumpkin contains a wide range of vitamins and minerals that will make your skin glow, including vitamin A and C that help to boost collagen production as well as zinc, which can help people dealing with acne. The flesh of the vegetable also has fruit enzymes and alpha hydroxy acids that help to increase cell turnover to brighten the skin. Pumpkin seeds also have a lot of the same great benefits as well.
"Pumpkin seed oil is high in the polyunsaturated fatty acid omega 6, which is beneficial for the skin and hormone support in women," Lorna Driver-Davis, a nutritionist at Feel Better Nutrition told the Daily Mail. "I also recommend pumpkin seed oil to men due to the zinc content."
So with all that said, let's take a look at some of the best pumpkin beauty products to add to your collection this fall!
Burt's Bees Pumpkin Spice Moisturizing Lip Balm
This limited-edition pumpkin spice lip balm will keep your lips refreshed and hydrated, all while having you smell like the sweetest scent of fall.
Sydney Grace Pumpkin Spice Latte Loose Highlighter
Keep your healthy summer glow going into the fall with this loose highlighter from Sydney Grace. The light peachy hue works great on all skin tones, the brand states, and at such an affordable price, you definitely can't go wrong!
Too Cool For School Pumpkin 24K Gold Mask
This environmentally friendly bio-cellulose mask is able to hold up to 100 times its weight in fluid. So you better believe it will be delivering all the amazing pumpkin and 24K gold goodness to your skin.
Savor Beauty Pumpkin Enzyme Peel
This peel uses the natural alpha hydroxy acids found to pumpkins to gently get rid of dead skin cells to reveal a luminous glow. Its formula also includes lactic acid to help with acne and fine lines, as well as gluconic acid to increase collagen production.
Peter Thomas Roth Pumpkin Enzyme Mask Enzymatic Dermal Resurfacer
This best-selling mask uses a triple-action formula, with aluminum oxide crystals, pumpkin enzymes, and an alpha hydroxy acid, to reveal brighter, smoother, and more radiant skin.
Bath & Body Works Pumpkin Cupcake Hand Cream
Have your hands smelling like a pumpkin cupcake, while keeping them hydrated and soft with this nourishing hand cream formulated with the goodness of vitamin E and shea butter.
Hempz Pumpkin Spice & Vanilla Chai Body Moisturizer
Spice up your skincare routine by rubbing on some of this luxurious and 100 percent vegan moisturizer on your body after you hop out the shower. The goodness of pumpkin extract will smooth the skin, while the vanilla scent will help to calm you after a long day.
I don't know about you, but I can't wait to get my hands on these amazing products!