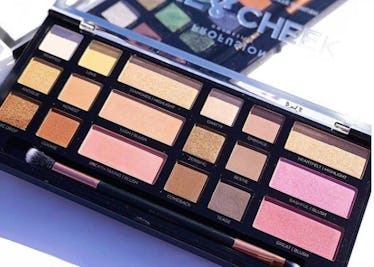 This Exceptionally Affordable Makeup Brand Will Have You Buying Even More At Target
I'm constantly on the hunt for new beauty buys, and nothing makes me more excited than discovering makeup that is not only super pigmented, on-trend, and packaged nicely, but is also affordable and accessible. If you haven't heard the Profusion makeup reviews yet, I'm sharing mine because these products are too good to be missed. Prepare to add powder and contour kits for $13, strobing sets, and twenty-four shade eyeshadow palettes for $10 to your shopping cart STAT.
When I was in college, I did all my beauty shopping at Target. I was broke and my routine was pretty basic, but I think everybody's routine back then was too. There wasn't much to discover at drugstores then. I spent as little as I could and kept the same products on repeat — mostly because I couldn't afford to risk spending my money on a new product that wouldn't work. The aisles were filled with the regular go-to essentials and beauty shopping was just something I did to keep my makeup bag stocked.
These days, the beauty shopping experience at Target is so different. They've expanded to include so many different brands and products, and even carry coveted Korean beauty staples, but one thing remains the same: Everything is affordable. So, when Profusion Cosmetics landed on my desk, I was shocked to hear it was available at Target at super cheap prices.
I've tried a range of products from the affordable makeup brand, and almost all of them are reminiscent of some of my favorite designer beauty buys. Packed with on-trend colors, tons of pigment, and luxe-looking packaging, these products have earned a permanent spot in my carefully curated collection. Scroll down to peep my faves.
Pro Conceal Contour 19-Piece Professional Conceal & Contour Kit, $13, Target
I'm obsessed with this kit because it has everything I need in one place. I usually opt for cream and powder contouring products, but before I started using this faux-leather covered book, I swapped between two different palettes. The Pro Conceal Contour palette even has four color-correcting cream shades (green, yellow, peach, and orange) and a cream and powder highlighter to make my beat look perfect every time.
Amber Eyes Eyeshadow Palette, $7, Target
If you know me, you know that I have this obsession with eyeshadows in warm shades of amber, orange and red. My eyeshadow drawer is stocked with similar color palettes by Urban Decay, Huda Beauty, and more of my pricey favorites, but this under-$10 option totally made the cut. And it comes in a metal tin, so next to its more-expensive counterparts, the Profusion Amber Eyes packaging fits right in.
24-Shade Eyeshadow Palette & Brush, $10, Target
If you're like me and think more is more when it comes to makeup options, $10 gets you twenty four shades of Profusion Cosmetics' eyeshadows. Whether you prefer the warm hues (similar to the ones above) or shades that can get you the smokiest of smoky eyes, the Naturals palette is sure to be your new jam. And the packaging accented with rose gold details looks so pretty on your vanity.
Strobe & Glow 9-Shade Highlight Palette & Brush, $10, Target
I love a good highlighter and this palette has nine, and they're basically one dollar each! Laced with every shade you'll ever need, the collection comes complete with warm colors like gold and rose gold to cool shades like silver and ones with blue and purple undertones. Use the included brush for subtle glow or apply with your fingers for a trendy strobe.
In case you needed further proof that looking like a million bucks doesn't have to cost you that much, there you go. Now beeline for Tarjay beauty.