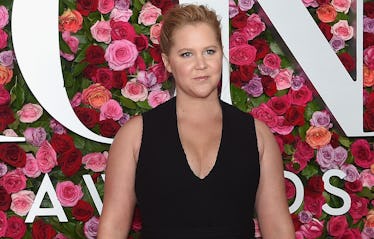 Amy Schumer & Chris Fischer Made Their Award Show Red Carpet Debut & They're Cute AF
Jamie McCarthy/Getty Images
Amy Schumer and her husband, Chris Fischer, got married in a surprise wedding right around Valentine's Day. Since then, they haven't made a boatload of public appearances together, but they did make their red carpet debut at the I Feel Pretty premiere. Now, on Sunday, June 10, the couple made their first major awards show debut and the pictures of Amy Schumer and Chris Fischer on the Tony Awards red carpet are so sweet. And awkward. But sweet.
Schumer and Fischer attended the 72nd Tony Awards (my favorite day of any year ever #theatrekid4ever) on Sunday, June 10. Schumer was nominated for Best Actress in a Leading Role in a Play for her performance in Steve Martin's Meteor Shower, so her husband came to the show to support her. The couple's first-ever joint red carpet appearance was at the I Feel Pretty premiere on Tuesday, April 17, and we haven't gotten to see much of them since, so this appearance was definitely a treat.
Schumer didn't end up winning her category, but the night was still filled with amazing moments like Andrew Garfield's speech, Robert De Niro saying "f*ck Trump" on live TV, and Sara Bareilles and Josh Groban's blissfully wonderful hosting.
The photos of Schumer and Fischer on the Tony Awards red carpet are so adorably awkward.
They look v comfortable to be there together, but I have a feeling Fischer isn't used to the spotlight just yet, making his red carpet posing skills not so great. It makes these photos adorably weird, and I love every single one of them.
Chris is all: "I'm not exactly sure what to do with my hands."
Amy: "You can just put them at your side..."
Chris: "Got it. Great note, Amy. I'm gonna keep my hand right here."
That dialogue only happened in my imagination, but it totally fits, right?!
Schumer starred in Meteor Shower alongside Keegan-Michael Key, Laura Benanti, and Jeremy Shamos. It had a limited run, but received good reviews and was clearly good enough to snag Schumer her first Tony nomination. Schumer also took to the Tony stage to do the introduction for the performance from the company of My Fair Lady. If you know nothing about theatre (*disappointed sigh* you probably don't), never fear: you've got a former theatre kid here who knows about it all and won't let you get away from this article without learning a little somethin' somethin' about musicals. HA.
My Fair Lady was one of the first Broadway musicals ever. Julie Andrews starred as the original Eliza Doolittle in the Broadway version and Audrey Hepburn starred in the film version. It's a hella sexist story about a rich white guy trying to teach a poor white woman with a thick cockney accent how to "speak like a lady." *Eye roll*. Schumer trolled My Fair Lady for its problematic plot when she introduced the cast's performance. She said, "The first nominee for best revival of a musical is of 'Pygmalion,' a comedy about class and sexism," adding, "It tells the story of a scruffy flower girl, Eliza Doolittle, who is transformed by Henry Higgins, a man-splaining expert on dialects." LOL, true.
She continued, "This interpretation celebrates Eliza's growing self-confidence and highlights equal rights for women. Because we actually don't have that." Ehhhh, I guess you could say the show celebrate's Eliza's confidence. That's a pretty glossy spin, though. Schumer continued, "In Eliza's words, 'The difference between a lady and a flower girl is not how she behaves, but how she is treated.'"
People on Twitter thought Schumer's trolling was hilarious and spot-on.
No one really knows why Schumer was asked to present the My Fair Lady performance, seeing as she isn't connected to the show in any way. (Most people at the Tonys who introduce performances from the nominated shows are typically involved in the show they're presenting.) It seemed like Schumer didn't understand why she was presenting that performance either, so she had no issue trolling the plot. Some people shaded her for the line about the show highlighting Eliza's confidence because that's quite the stretch, but Schumer most likely didn't write that. Either way, My Fair Lady was properly trolled and I was very pleased.
We didn't get to see much of Schumer and Fischer together during the actual show, but seeing them on the red carpet was still a treat.
Let's please appreciate Fischer's awkward hand one last time before we say goodbye.
Ugh, so majestic. OK, bye!