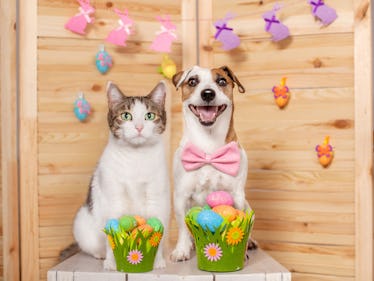 Photos Of Pets Dressed Up For Easter Are The Cutest Thing You'll See This Holiday
Easter Sunday may have landed on April Fools Day this year, but these photos of pets dressed up for Easter are no joke. Of course most people first think of the Easter Bunny when it comes to this holiday, but Twitter is here to show you that dogs and cats like to show off their Easter spirit as well. Whether they are donning bunny ears to really fit the theme of the day or simply showing off their Easter baskets, it's evident from their pictures that plenty of pets know how to celebrate this spring holiday to the fullest.
If you need a break from the Easter egg hunts and devouring all of the candy you got in your basket, you can take a scroll through Twitter on Easter Sunday to enjoy all of the Easter cuteness pet owners are sharing. I've always thought of Easter as having a leg up on the other holidays when it comes to photo opportunities since you have the brightly colored eggs and pretty pastel decorations. When you take all that and you add a dog or a cat to the mix, it's pretty much no contest when it comes to wondering which holiday reigns supreme in the "adorable pet costume" category.
"I hope everyone has an Egg-cellant Easter!"
Bunny ears and Easter puns? This pup knows how to do it right.
"Hoppy Easter from my main hunny bunny."
Apparently puppies love puns almost as much as they love Easter accessories (and I am so here for it).
"...my cat look like the Easter Bunny"
Even though this cat is (probably) not the Easter Bunny, it sure seems to have left some pretty sweet Easter Baskets.
"Happy Easter from my dogs."
This is literally the only "Happy Easter" wish you'll ever need.
"Everyone knows I treat my dog like my child, so enjoy her Easter pictures."
This full on photo shoot of a dog in bunny ears is almost too cute to handle. Almost.
"Happy Easter everyone!"
There's no denying this cat knows the best part about Easter: the candy.
"Happy Easter from Wombat Cat!"
Even the wrong sized bunny ears can't distract from the adorable situation that is this picture.
"Happy Easter!"
Two dressed-up dogs for the price of one Easter basket? Yes, please.
"Our Easter Bunny sat patiently waiting for a treat and to get those ears off his head."
Who's a good boy (er, bunny)???
"Happy Easter. Look at my dog."
A fluffy doggo with pink bunny ears is the ultimate Easter photo.
In a perfect world Easter Sunday would be spent solely looking at adorable photos of pets decked out in Easter accessories, but you'll probably want to get out of the house at some point during the daylong family gathering. I'm not saying there is objectively such a thing as too much family time, but you might want to take a break from discussing whether or not everyone wants to watch Jesus Christ Superstar Live on Sunday night.
So make sure that you have some battery life left on your phone partake in Snapchat's Easter weekend-only game called the "Great Snapchat Egg Hunt." It's basically a Pokemon Go!-esque cyber egg hunt, and it's a great excuse to get out of the house. You can even turn it into a family-wide competition to see which member of the family's egg-hunting skills reign supreme. The competition only lasts until 9 p.m. PT on April 1, so you can get your cyber egg hunt on and then totally get back to looking at all the adorable Easter pet celebrations.