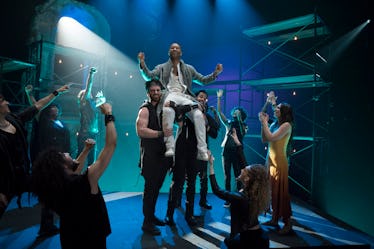 Here's Where To Watch 'Jesus Christ Superstar,' So You Don't Miss A Second Of The Special
NBC
It was NBC who kicked off the "Live Musical Event" craze back in 2013 with The Sound of Music, but since 2016, it seems that FOX has taken over the genre, starting with Grease that January and following up with The Passion at Easter. Now, NBC is making a move to take the genre back, staging their own Easter musical live event, the Andrew Lloyd Webber smash hit Jesus Christ Superstar. With live events, there are no re-runs to catch, so here's how to watch Jesus Christ Superstar Live with your family come this Easter Sunday.
NBC has lined up an amazing cast to pull off the live event. Unlike FOX's production of The Passion, which starred the relatively unknown Cuban music star Jencarlos as Jesus, Jesus Christ Superstar's title role goes to one of the biggest music superstars in the business — John Legend. The role of Mary Magdalene (who has some of the best showstopping numbers) will be played by Sara Bareilles, who has gone from pop princess to Tony-nominated Broadway veteran in the last few years. Alice Cooper brings a rocker's edge to the evil King Herod, while Hamilton veteran Brandon Victor Dixon takes on the role of Judas.
For those who aren't familiar with the original musical, which was written by Webber along with Broadway legend Tim Rice, it was not originally conceived as a stage play but rather a concept album. After shooting to No. 1 on the Billboard charts, Webber and Rice were convinced to stage it for the 1971 Broadway season. It earned Andrew Lloyd Webber a Drama Desk Award, as well as six Tony nominations that year, of which it won two. In 1973, it became a film, which garnered Golden Globe nominations for Ted Neeley and Carl Anderson, who played Jesus and Judas, respectively, as well as Yvonne Elliman, who played Mary.
Check out the synopsis:
Set during the final week of Jesus' life, the story is told from the perspective of infamous betrayer Judas Iscariot. As more and more followers flock to Jesus, Judas grows concerned that Jesus is becoming arrogant and losing sight of his principles. So when Jesus attacks the money changers in a temple, Judas finally turns on his teacher, setting both on a path to tragedy.
Here's the trailer:
So, how do you watch the show, since these NBC live musicals only air once? According to TV Guide, watching live on NBC isn't your only option, though, as one can imagine, it's the one NBC would prefer, especially if you're planning to tweet along with the show.
But for those who don't have a TV, or will be somewhere without one, fear not. The live event will also be streaming. NBC.com will stream the event live, simulcast with the TV broadcast, though you'll need a cable provider login in order to access it that way.
Also, make sure your dinner is done and you've got your snacks handy. Once you sit down for the live event, be prepared to stay there for a while. The show starts promptly at 8 p.m. ET (7 p.m. CT), and according to NBC, will run until 10:15 p.m. ET (9:15 p.m. CT.)
The event will also be streaming through Hulu for a full day after it broadcasts as Comcast is part owner of the popular service, and they also own NBC. So if you're busy on Sunday night, it will be there to watch on Easter Monday if that's more your style.
Jesus Christ Superstar Live airs on Easter Sunday, April 1, 2018, at 8 p.m. ET live on NBC.