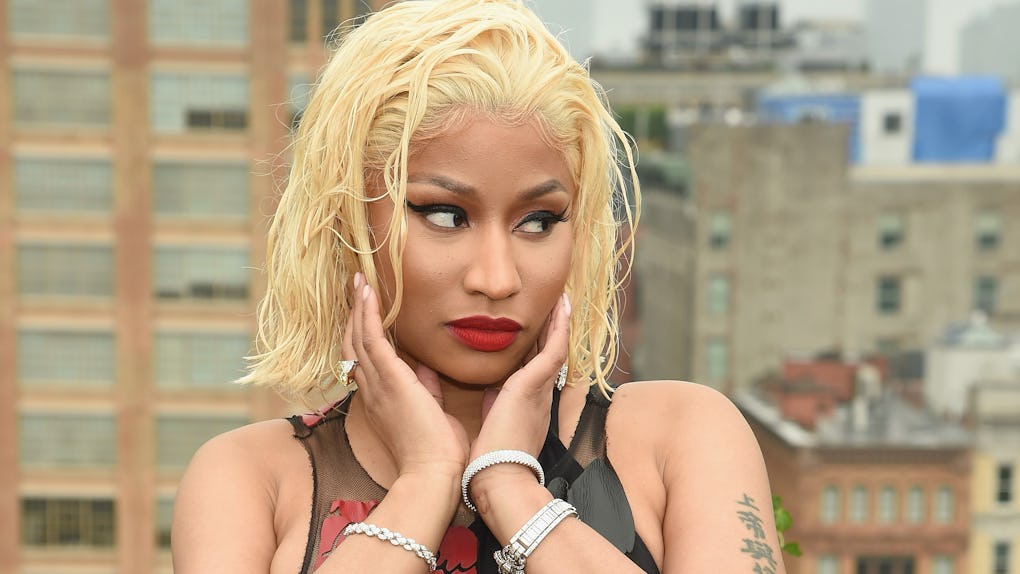 Dimitrios Kambouris/Getty Images Entertainment/Getty Images
These Photos Of Nicki Minaj & Her Mom At NYFW Are Freaky Because They Look Exactly Alike
Ohhh, so that's where she got it from — her mama. Nicki Minaj and her mother, Carol Maraj, attended New York Fashion Week together, causing attendees to do a double take. That's because this mother and daughter look so much alike. Photos of Nicki Minaj and her mom at NYFW show the similarities in their physical features but also in their shared sense of fashion and attitude. Together, they rocked bright colors, platinum hair, and smoldering glam makeup. If there's one thing Maraj clearly taught her daughter, it's confidence.
Minaj and Maraj attended the Oscar de la Renta fashion show together on Tuesday, Sept. 11, in NYC. Photographers managed to catch pictures of both women posing for cameras while holding hands and candidly waiting in their seats for the show to start. Minaj was dressed in an intricate red, black, and pink sheer dress emblazoned with Oscar de la Renta's signature. Maraj wore an equally attention-grabbing orange/yellow long-sleeved number with detailed black floral patterns on the sides. Both women wore their blonde hair in a wet, textured style and have clearly perfected Tyra Banks' iconic "smize."
I mean, look at this.
I said look!
The rapper doesn't fall far from the tree. That's what I always say.
Minaj is currently riding the high from her Queen album release while simultaneously riding the waves after her public fight with Cardi B at a previous NYFW event. On Friday, Sept. 7, the two female artists went at it during the Harper's BAZAAR Icons party at the Plaza Hotel in New York City. In fact, TMZ reported it got physical. Elite Daily reached out to both Cardi B and Minaj's teams for comment on their reported fight but did not hear back by the time of publication.
At first, it was unclear what the feud was about, though the next day Cardi B shared a message suggesting it was over comments Minaj reportedly made about her being a bad mother. Cardi B shared a lengthy message full of exclamation marks saying, "When you mention my child, you choose to like comments about me as a mother, make comments about my abilities to take care of my daughter that's when all bets are f*cking off!!"
Minaj broke her silence on the argument on Monday, Sept. 10, on her Queen radio show. "I was mortified," she said. "How we, and I'm going to use WE loosely, made ourselves look was mortifying."
Minaj then touched on Cardi B's accusation claiming she made comments regarding her daughter and parenting skills. Minaj said, "I ... would never talk about anyone's child or parenting. I don't care about anyone's parenting. I am not a clown, that's clown sh*t." Elite Daily reached out to Cardi B's reps regarding Minaj's radio commentary on the fight, but did not hear back by the time of publication.
Despite Minaj's reported embarrassment, she and her mother totally slayed at Oscar de la Renta's show. If I've learned anything in this world, it's that sometimes a girl and/or award-winning bad*ss rapper just needs her mom and a good outfit to feel better.