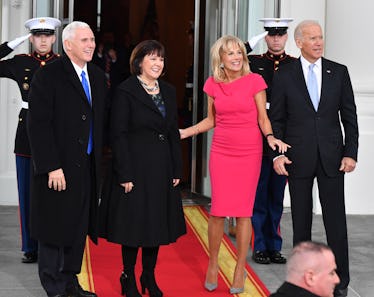 The Pences Have Such A Different Romantic Vibe Than The Bidens & I'm Captivated
Pool/Getty Images News/Getty Images
When many of us think about famous romances, politicians and their partners usually don't come to mind. (Well, except for people like Barack and Michelle Obama or Donald and Melania Trump, of course.) But I wanna talk about vice presidents and their wives for a sec. VPs and second ladies like, say, Mike and Karen Pence and Joe and Jill Biden? The photos of the Pences versus the Bidens, for example, show that perhaps these couples really do deserve more of our attention, because let me tell you, I'm captivated.
In case it wasn't already clear, Joe Biden and Mike Pence are two very different vice presidents. Pence has opposed gay marriage (even suggesting reinstating Don't Ask Don't Tell, which excluded openly LGBTQ+ people from the military), and he's also strongly opposed to abortion rights, for instance. But Biden is the opposite: he's a strong supporter of gay rights, as well as a devout champion for women's rights.
The political comparisons are endless, honestly. But it seems like they're just as different in private as they are in public, because these two men even appear to share some drastic differences when it comes to their personal lives. For one, there's a lot of weirdness surrounding the Pences: the vice president is rumored to refer to his wife as "Mother." He also doesn't dine alone with any woman who isn't Karen, and he won't even attend events featuring alcohol if she's not around. But the Bidens appear to be a lot less stern, with Jill even making a penis joke about her husband during a campaign event back in 2012. (Joe, in the background, appeared to appreciate the laughs.)
The circumstances in which both men met their wives are even dramatically different. Pence met Karen through a chance encounter at church in 1983, tying the knot just two years later. But Biden and Jill met in 1975 following the death of his first wife, who passed away in a car accident three years prior. And when he did propose, he had to do so five times before she finally accepted, according toVogue, and the pair said "I do" in 1977. (Talk about tough love.)
I've done some digging around to find photos that convey exactly what I mean in regards to their differences, and I'm sure you'll agree with me once you take a look.