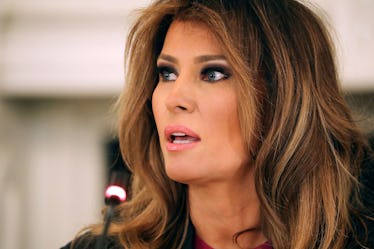 There's A Subtle Message Behind Melania Trump's Dress At Her First State Dinner
Chip Somodevilla/Getty Images News/Getty Images
While we may not know a lot about Melania Trump, no one can deny that she's a natural-born fashionista. That's why I'm so in love with Melania Trump's dress at her first state dinner. Have a look for yourself and prepare to fan out, but you'll adore it even more when you hear why she picked the gown.
On April 24, President Donald Trump and his wife Melania hosted the Trump administration's very first state dinner with France. French President Emmanuel Macron and his wife, Brigitte, were the guests of honor at the dinner, which also welcomed between 100 and 150 other guests. But given the fact that the first lady had reportedly put together the whole event, from décor to menu, all eyes were on Trump and how she would complete the look with her own attire. According to CNN, for President Donald Trump's first state dinner the first lady donned a Chanel Haute Couture gown, which was hand-painted with silver and embroidered with sparkly crystals and sequins. She reportedly picked the dress from the French fashion house to pay "homage to the country that they are hosting," which is a beautiful and subtly clever compliment to their guests.
Trump was also tasked with designing every detail of the event, and between that and the fact she speaks fluent French, I'm betting she really blew the Macrons' minds and gave them a night to remember. OK, I'm getting really excited — let's all take a second to obsess over this gorgeous dress first.
It's worth remembering that first lady fashions don't exist in a vacuum, either. What the first lady chooses to wear on the international stage can read as a form of diplomacy in and of itself, used as a way to signify respect, advance American interests, or promote cultural exchange. Trump's decision to wear a dress from a famous French fashion house — perhaps the most famous French fashion house — is a clear and tasteful compliment to the French head of state. And considering the note-perfect sartorial diplomacy in combination with Trump's masterful stage direction of the rest of the evening, I think she deserves a round of applause.
Which, thankfully, she got. During the dinner, Donald gave a tribute to Trump, calling her "absolutely incredible" for planning (and nailing) such an exquisite event. "To America's absolutely incredible first lady, thank you for making this an evening we will always cherish and remember," he said. "Thank you, Melania."
ABC notes that the evening was surely one that everyone would always cherish and remember. According to the outlet, Trump decorated the hall with crème and gold colors, and drew from American and French influences. The menu also was planned to "showcase of the best of America's cuisines and traditions, with nuances of French influences," and includes a salad with ingredients from the White House kitchen garden (which was planted by Michelle Obama). And, as if that weren't already impressive enough, the wine selections were even picked to "complement the menu and embody the historic friendship between the United States and France." For the main entrée, guests were served a rack of lamb and jambalaya, and for dessert, they enjoyed ice cream and nectarine tarts.
Clearly, Trump went all out for the event and it sounds perfect.
The state dinner isn't the only time she's caught some attention during the Macrons' stay, and it's not all just as good. Earlier in the day on April 24, Trump made an appearance outside of the White House with her husband to greet the Macrons as they arrived to the residence, and Donald desperately (and awkwardly) tried to hold his wife's hand. In the video, the president is shown grabbing at Trump's hand with his pinky finger, but he doesn't receive a response. She finally gives in, half-heartedly, which sent social media into a frenzy.
Bleacher Report's Tyler Conway shared the video on Twitter with a snarky caption that read, "Donald Trump attempting to hold hands with Melania, only to be rejected over and over, is the cringiest thing I've ever seen"
It honestly couldn't be more cringeworthy.
Elite Daily also spoke with body language expert Traci Brown over the interaction. She tells us that Trump had zero interest whatsoever in engaging with her husband. "She is just not interested in engaging with him at all, she has no energy for that," Brown says. "He keeps trying, and eventually, she half-heartedly gives in. But she's checked out."
Well, judging by the looks of the video of the two at the state dinner, they finally got it together — personally, diplomatically, and aesthetically. This is what I like to see! Keep it up, Melania, you're doing great.