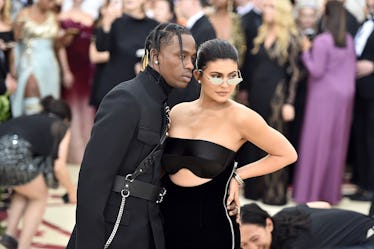 Stormi Looks Just Like Kylie Jenner's Mini-Me In Adorable Throwback Baby Photos
Theo Wargo/Getty Images Entertainment/Getty Images
It's no secret that good genes run in the KarJenner clan, but every once in a while, the stars of Keeping Up with the Kardashians like to remind us just how much their mini-mes take after their mamas. Case in point: these photos of Kylie Jenner and Stormi as babies show that the 8-month-old looks just like her mom. TBH, they look like they could be sisters in Jenner's old baby photos, and it's so adorable.
On Saturday, Oct. 27, Kylie Jenner appeared to be going through some throwback baby pics when she stumbled upon an adorable gem that'll make you instantly think of her little tot. There are the same chubby cheeks, twinning big brown eyes, and identical noses, proving that little Stormi is basically Kylie's mini doppelgänger. Luckily for her fans, Jenner decided to gift everyone with a side-by-side comparison on her Instagram Story Saturday night. Because it's the weekend, and who doesn't want to celebrate with an extra dose of adorable in their life?
Simply captioned "my baby and me" with three heart eye emojis, the makeup maven's side-by-side shot has me doing a double take because I feel like I'm literally seeing double. On the right, little Kylie can be seen wearing a tiny pink t-shirt, a printed pink skirt, and a light pink headband, while baby Stormi on the left is pictured wearing the pastel pink onesie with a black ribbon and matching tennis shoes that she wore in Kim Kardashian West's sleepover Instagram post alongside baby True and baby Chicago. TBH, the facial resemblance is everything, and it's melting my heart into a puddle of love.
Speaking of baby True, Jenner also did a side-by-side with sister Khloé Kardashian's daughter to really pull at our heartstrings and prove once again that the genes are strong in the Kardashian circle. I don't know about you, but the identical pouty expressions and chubby cheeks are giving me so much life right now.
This isn't the first time that the beauty entrepreneur has blessed our lives with the uncanny resemblance between her and her bundle of joy. Back in August, Jenner shared a rare Instagram photo of herself with her baby as she was about to turn 21, prompting fan account @goddess.kylie to point out the similarities with an image of a young Kris Jenner holding then-baby Kylie.
Kylie re-shared the image as well as a collage of a few others with the caption "My twinny" to drive home the point that baby Stormi looks just like she did when she was an infant.
Back in July, the TV personality told fans during a YouTube Q&A video with Jordyn Woods that "Stormi, she's my twin," but also revealed that "she's looking a lot more like her dad" as she gets older, per People.
"She has the most perfect lips in the entire world," she said in the video, adding that she "didn't get those from me." However, Kylie's daughter apparently does have her forehead, her ears, and her "big eyes."
"I prayed and prayed she would have my big eyes and she has the biggest eyes ever," Jenner gushed in the video.
Looks like the youngest generation of the KarJenner clan is proof that the apple doesn't fall far from the tree.