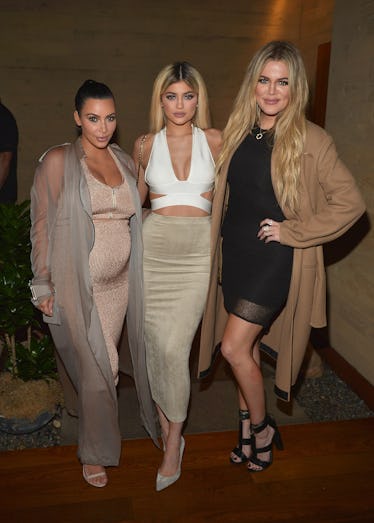 Twitter Is Losing It Over Kim's First Ever Photo Of Chicago West & Her Cousins
Charley Gallay/Getty Images Entertainment/Getty Images
Kim Kardashian's latest Instagram post is making it so much easier to keep up with the youngest generation of the Kardashians, and my heart can't handle the cuteness. On Friday, Sept. 15, the reality star finally blessed her followers by sharing a long-awaited photo of "The Triplets," aka baby Chicago West, True Thompson, and Stormi Webster, having what looks to be the most adorable play date ever, and unsurprisingly, Kim Kardashian's photo of Chicago, Stormi, and True has all of Twitter saying the same thing. Is it just me, or could these baby cousins be sisters?
Friday night was for the girls in the Kardashian West household, where mom Kim spent the evening watching over her youngest nieces — Khloé's five-month-old daughter True and Kylie's 7-month-old daughter Stormi — as well as her youngest daughter, Chicago, who is 8 months old. Being a part of the KarJenner clan, the tots have already had their fair share of Instagram photo-ops with each other, but this is the first time fans have been able to see the whole krew all in one photo.
Captioned with "The Triplets" and heart emojis, Kim K's photo emphasizes just how similar the three cousins look to each other. Plus, it doesn't hurt that in the photo, all three newborns are sporting similar, wide-eyed expressions as they gaze at something that's caught their interest off-camera.
As the eldest, Chicago can be seen playing ringleader and hostess in a black t-shirt and with a My Little Pony stuffed animal in hand while baby Stormi is pretty in pink, courtesy of a pale pink onesie featuring black ribbons and matching pink Nike sneakers. Baby True is in the middle, wearing a red printed dress.
The photo is almost too cute to handle, and Twitter is having some ~ feelings ~ about the three KarJenner babies appearing in one shot together and becoming BFFs for life.
While many commented that the three cousins could be sisters, others noted the resemblance to their famous parents.
While the Instagram post was totally unexpected, Kim K first teased fans back in June that she was planning to unite the cousins for an official photoshoot.
"We're so excited," she told ETOnline. "Me and Kylie and Khloe are planning one of those kids' photo shoots, just like a silly shot that we can have all the girls, 'cause Stormi and Chicago have so many pictures together. So, we can't wait for True to join the crew."
Considering how close the Kardashian girls were growing up, Kim, Kylie, and Khloé's mini-me's are unsurprisingly already the best of friends. "The three little girls are gonna grow up together," Kim gushed to ETOnline. "Chi and Stormi are just two weeks apart and then True is just a few months behind so that's really exciting."
While we have yet to see the results of said photoshoot, Khloé took to Twitter on June 30 to reveal that the cuter-than-cute photo-op had been shot already. And judging from this heart-melting sleepover image, something tells me that this is definitely going to be the most iconic KarJenner photoshoot thus far.
Could a Christmas photo-op of these babies be in the works? Or perhaps Kim will take notes from several Twitter comments and transform the power trio into the Powerpuff Girls for Halloween? There are so many cute possibilities, and I can't handle it.