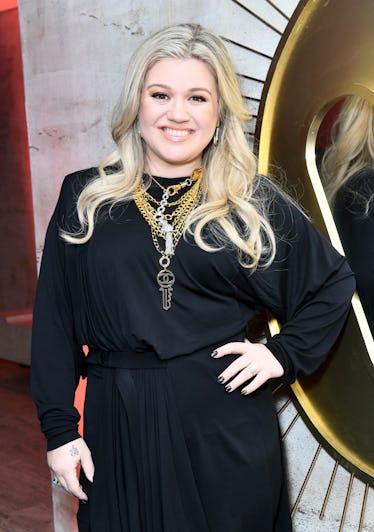 Kelly Clarkson Has The Cutest Kids Ever & These Pics Seriously Prove It
Jared Siskin/Getty Images Entertainment/Getty Images
I'm a sucker for really, really, cute babies (who isn't), but Kelly Clarkson's kids are downright adorable. The American Idol alum and The Voice judge married her husband, Brandon Blackstock, back in 2013 and they have two children together — River Rose Blackstock and Remington Alexander Blackstock. If you want to just pause and bask in how beautiful their names are I'll allow it because honestly, I couldn't think of a more lovely pair of names if I tried. And unlike a lot of celebrities, Clarkson has absolutely no problem taking to social media and showing off her children, documenting their little lives (thanks SO much for this, Kel). And let me tell you, these photos of Kelly Clarkson's kids are seriously the cutest ever. So cute, in fact, that they will warm your cold, cold heart.
When asked about what it's like being a celebrity with kids during The Voice's panel at TCA on Tuesday, April 24, Clarkson admitted that kids "are challenging," but that overall, they make you a better person:
They're great, though. They say something and you're like, 'Damn.' They'll call you out. And they teach me. I know it sounds really silly, but kids teach you to be a better human because they're watching every moment. Not only me at home, but me sitting here with y'all.
Clarkson added, "I think that [my children] taught me to just look around me and notice the things that are really important, even if it's just hanging with them, playing on their little piano or taking the time. Because I think in life, as adults, it's very hard for us to be still. It's very hard for us to enjoy the moment."
BRB, just gotta go think about the reality of my existence and think about procreation for a quick sec.
In the meantime, you should *probably* check out Kelly Clarkson's Instagram feed, because she has the sweetest pictures of River and Remington posted to her social media. If you're too lazy to go and check, I'll do you a solid and showcase something of an adorable highlight reel:
Here's River Rose meeting a really, really, good-looking Gaston:
Also, LOL to Clarkson's comment:
Oh great so she's into bad boys at the age of 3 🙄 this should be fun
Can you blame her though? That man is a literal dreamboat.
And here's Remington Alexander looking adorable AF in his onesie:
LOOK AT THAT ONESIE. Where can a person get one of those? Asking for a friend.
Oh, did you want a photo of Kelly Clarkson's daughter looking like a total mini-me of her mom? Well, here ya go:
Or perhaps I could interest you in a photo of Remington with what is quite possibly the cutest lil' hairdo I've ever seen:
So very, very, #iwokeuplikethis.
This photo of River "warming up" with her mom on tour is actual #babygoals:
And please look at this photo of Remington channeling his inner Mr. Rogers:
I'm dying, you guys. That sweater? Those shoes?! I'm dead.
But if you're like, "Wait, where's hubby Brandon?," no worries, fam. I got you.
Find me a better picture of a father and daughter. I dare you:
Spoiler alert: You can't. There is no cuter photo of a dad with his little girl that exists in this realm.
But I'm not going to lie, this photo of Kelly Clarkson with Remington is honestly on the same adorable playing field:
Why do little babies who scrunch their noses and show off their tiny-human teeth just make me melt into a puddle of happiness? It's happening at this very moment, people.
On behalf of the entire world, I just want to thank Kelly Clarkson for showing off her adorable family. Keep those family photos coming, girl!