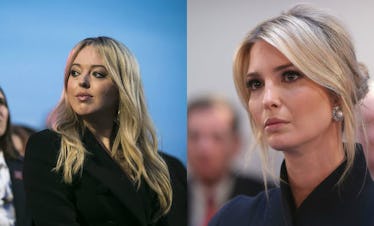 Ivanka & Tiffany Trump's Cute Photos Together Aren't Here For Sibling Rivalry
Pool/Getty Images News/Getty Images & Alexandra Beier/Getty Images News/Getty Images
In this tense political climate, it's never been more important to have family around. Even though the Trumps may not be the most popular people right now, at least they have each other. Of course, some first family members are a bit more in the spotlight than others, but these photos of Ivanka and Tiffany Trump prove they're still family through and through.
The Trump administration has been controversial from the start. However, since Donald Trump's presidential campaign, his children have openly supported their father through his political journey. While his sons, Donald Trump Jr. and Eric Trump, have taken over the Trump Organization, his oldest daughter, Ivanka Trump, officially became one of his senior advisers within the White House. While the older Trump siblings are taking charge, the youngest daughter, Tiffany Trump, is busy studying at Georgetown Law School, so it's no surprise that she's less active in her father's presidential duties.
However, there are moments where all the Trump children come together to celebrate holidays in the White House or attend important events such as the State of the Union. Blood is thicker than water after all, and during those moments, it's nice to see that Ivanka and Tiffany still have a close relationship despite the political controversies surrounding them.