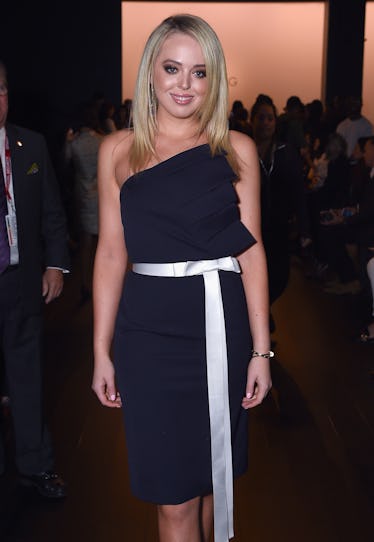 Tiffany Trump Is Apparently Doing Just Fine At Law School, Despite Reports
Nicholas Hunt/Getty Images Entertainment/Getty Images
Tiffany Trump has always been somewhat in the public eye, but the attention that the public pays to her significantly increased when her father decided to run for president and ultimately won the election. Naturally, the country is curious as to what all of the president's kids are up to, and people have become particularly interested in his youngest daughter's whereabout. Well, contrary to a report that states she isn't enrolled in Georgetown anymore, Tiffany Trump is still in law school and doing just fine.
A Trump Organization spokeswoman confirmed to the Washington Post on July 16 that the first daughter is still enrolled in Georgetown Law School, and will continue to attend classes this coming fall... which seems a little unnecessary? I don't usually need to hear confirmation that an enrolled student will, in fact, be going back to school in the fall. But the spokesperson made the statement specifically in response to a report from the Daily Caller, which reported on July 13 that Trump was not planning on returning to the university after her first year. The Trump spokesperson called the story "simply false," despite the fact that the Daily Caller asserts that sources have told them otherwise.
Trump just wrapped her first of three years at Georgetown, and the first is reportedly the hardest and most brutal year of them all. If Trump's made it past the worst third of her law school journey, I'd expect that she'd follow through with her last two years as well. So this statement from the Trump Organization spokesperson comes as no surprise.
Besides, Trump's Instagram bio says that she's still a "Georgetown University Law Center, J.D. Candidate" — so isn't that all the proof that's needed to dispute the claim that she's no longer attending the school? I definitely think so.
So it's settled — Trump is definitely still on her quest to earn herself a law degree. But that doesn't mean that she doesn't deserve some downtime in between her busy semesters. It is summer vacation after all, and I'm sure that Trump wants to stay as far away from any textbooks as she can until her next semester rolls around.
It sure looks like Trump seems to be enjoying her summer to the very fullest, per her Insta feed. She's posted pics of herself at Trump Winery, on a boat in New York City, and she's even been spotted partying it up in the Hamptons. Live your best life, Tiff. Summer vacation doesn't last forever, after all.
It looks like Trump is definitely making the most of her summer, as she should be. If I had the opportunity to take an entire summer off I definitely would. But just because Trump is keeping busy this summer doesn't mean that she's dropping out of law school. Come late August or early September, expect Trump to be hitting the library once again and burying her nose in law textbooks. But for now, the girl deserves to have some fun.