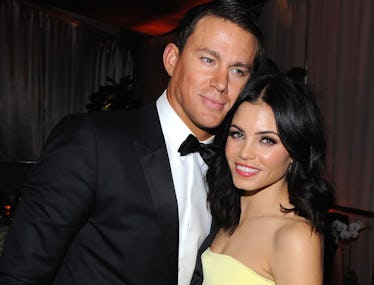 9 Photos Of Channing Tatum & Jenna Dewan In Love That Will Make You Want To Sob
We're only four months into 2018, but the most painful celebrity breakup might've already happened. On April 2, 2018, Channing Tatum and Jenna Dewan announced they decided to separate in a joint statement posted to their social media accounts. In the statement, they said they're committed to co-parenting their 4-year-old daughter, Everly, but they've made the choice to live separately after nine years of marriage. And oh, what a magical nine years those were. Remember Step Up? Remember their appearance on Lip-Sync Battle? Ugh, let's just stalk these photos of Channing Tatum and Jenna Dewan over the years while we ugly cry. It might be too soon, but let's just rip off the damn Band-Aid, OK?
Before we stroll down memory lane, though, here's the statement that broke our collective hearts on that grim day in April. Dewan and Tatum's statement read,
We have lovingly chosen to separate as a couple. We fell deeply in love so many years ago and have had a magical journey together. Absolutely nothing has changed about how much we love one another, but love is a beautiful adventure that is taking us on different paths for now. There are no secrets nor salacious events at the root of our decision — just two best-friends realizing it's time to take some space and help each other live the most joyous, fulfilled lives as possible. We are still a family and will always be loving dedicated parents to Everly. We won't be commenting beyond this, and we thank you all in advance for respecting our family's privacy.
While this statement makes it seem like this was a recent decision by couple, sources told People that Tatum moved out of their home months ago and this split was the product of a year's worth of struggle. "This has been a long time coming," one source told the outlet. "Like any marriage, they've had their ups and downs over the years but they really started to grow apart within the last year." Elite Daily reached out to Tatum and Dewan's teams for comment on this report, but did not hear back by the time of publication.
Over the last year, Dewan's career has taken off even more thanks to her being the host of NBC's World of Dance. Tatum has had multiple movies come out and was part of the team that made Magic Mike Live in Las Vegas a thing. But their careers are separate from their relationship, so let's not speculate that their individual successes contributed to their marriage ending.
Dewan told Health Magazine in a February interview that people saying she and Tatum's lives and marriage were perfect upsets her. "When people say you guys have such a perfect life, I want to scream and tell them no one's perfect," she told the magazine, adding, "I think there are such things as great fits. It is a great fit as long as you are growing together, and I think up until this point we've really grown together. Even if one starts to grow, the other catches up and vice versa."
She gave more insight into what made their relationship work in the past, saying,
But I think a couple needs to be conscious and to want to do the work and be willing to look at the parts of you that need work. Both of us have been pretty aware and willing to do that. We've always had the same values. But we're not perfect! Are you kidding? We fight like other couples, we disagree about things, we have days where we don't really like each other.
Keep in mind that this interview was published in February of 2018 and People reports Tatum and Dewan have been separated for months, so it's entirely possible they were already separated when Dewan said the above quotes. Given that context, the quotes take on a much deeper meaning and could possibly be a clue that they had split.
Now let's rip off that damn Band-Aid like I said we would earlier by taking a stroll down Channing Tatum and Jenna Dewan memory lane.
1. Step Up: Where it all began.
2. Here they are looking all cute and flirty at the MTV Movie Awards in 2014.
3. Look at how in love they look at the 2015 Oscars. Ugh.
4. Squad set to stun at the Kingsman: The Golden Circle premiere in 2017.
5. And who could ever forget this steamy AF photo Tatum took of Dewan during "nap time."
6. Or this sweet shot Tatum posted on Dewan's birthday in 2016.
7. Actually, Tatum has a pattern of posting the most romantic damn photos in honor of Dewan's birthday. Just look at this photo he took of her/posted on her birthday this past December!
8. Their iconic couple looks weren't just on the red carpet, either. They slayed couples costumes, as well. Here they are dressed as Sally and Jack from Nightmare Before Christmas for Halloween 2017.
9. And here's a shot of them cradling Dewan's baby bump on the red carpet of the 2013 Oscars because I apparently like to make myself cry.
OK, I have to leave before I start sobbing all over the place. Bye.