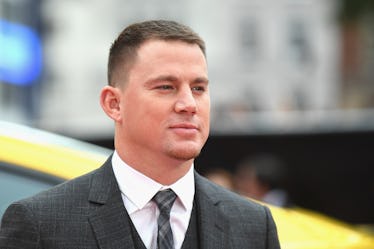 Channing Tatum Made His First Public Appearance Since His Split From Jenna Dewan
Stuart C. Wilson/Getty Images Entertainment/Getty Images
How has everyone been doing since The Great Channing Tatum and Jenna Dewan split of 2018? A little sadder? A little more inclined to stay in bed all day? Me too, but life must go on. The Smallfoot actor just appeared on his first red carpet since calling his marriage off with Dewan, and I don't know how to feel. I guess the photos of Channing Tatum after his split have me shook. I mean sure, he's a stunning man who needs no introduction, it just makes me feel weird to know he isn't strutting his stuff with his wife for the first time in nine years.
Tatum hit the red carpet on Tuesday, April 24, to promote his new animated film, Smallfoot, at CinemaCon in Las Vegas, Nevada. While he looked comfortable and relaxed for the most part, I can't help but wonder what is going on in his mind without Jenna (and how she might feel watching from afar?) Dewan and Tatum announced their split on April 2 by posting the following statement on Twitter:
We have lovingly chosen to separate as a couple. We fell deeply in love so many years ago and have had a magical journey together. Absolutely nothing has changed about how much we love one another, but love is a beautiful adventure that is taking us on different paths for now. There are no secrets nor salacious events at the root of our decision — just two best-friends realizing it's time to take some space and help each other live the most joyous, fulfilled lives as possible. We are still a family and will always be loving dedicated parents to Everly. We won't be commenting beyond this, and we thank you all in advance for respecting our family's privacy.
Now, just under a month later, Tatum hit the red carpet with his costars Common and Zendaya.
Does he seem sad to you guys or is that just his usual moody, ocean-blue eyes? I can't tell.
I assume he is thinking something along the lines of, "Smile. Nod. Wave. Go home. Eat pizza. Smile. Nod. Wave. Go home. Eat pizza." (Or maybe I'm just projecting my own internal monologue onto these pictures, hard to say.)
On Monday, April 23, a source told People magazine the actor was actually having a pretty hard time since announcing his split. The source explained it's "been hard for Channing," adding, "He always had Jenna and their family to go home to, so having their separation be 'official' now has been a big adjustment for him."
In the same article, insiders claim on that the flip-side, Dewan seems to be taking the breakup in stride. According to one source,
Jenna has a super-packed schedule and a ton of girlfriends to lean on and spend time with. Her life isn't really changing … if anything, she's just busier.
Another source said, "Jenna is great. She seems very energetic and excited about her life. It was very difficult for her to announce the separation. She didn't want it to happen for a long time."
Apparently, the separation was a long time coming, and Dewan and Tatum have been "growing apart" over the past year. In a previous People article, an insider explained,
The separation was a long time coming. They both took a long time to work on their marriage and to figure out what they wanted. It's not anything rushed.
It was added, "The fact that they get along is everything."
Whatever. Heartbreak city: Population at least me and Channing.
Thinking about you, big guy. Your jawline is still impeccable, for whatever it's worth.
Check out the entire Gen Why series and other videos on Facebook and the Bustle app across Apple TV, Roku, and Amazon Fire TV.